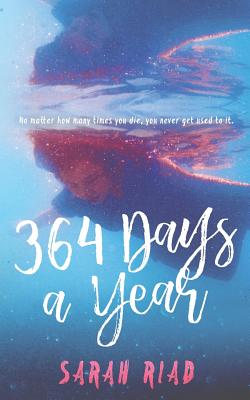 364 Days a Year (Paperback)
Independently Published, 9781724030887, 224pp.
Publication Date: October 24, 2018
* Individual store prices may vary.
Description
For most people,
March 29th is just another day.
For me, it's the day I wake as someone new.

A different face and different hands,
a body that's not my own.

And like every year, I'm only certain of three things.

It's my seventeenth birthday.
I have no way of stopping this cycle.
And I'll die again in 364 days.

This year, I'm Effy Garcia.

Something is different.

Something I can't yet place.

Since the year 1909,
I have lived in 108 bodies and I have died 108 times.

Could this life be my last?

What readers are saying
"This book was completely different than anything I've ever read. I couldn't put this book down. The first chapter had my heart thumping with excitement, but that epilogue " - Between Books

"364 Days a Year is a fascinating tale were fantasy meets reality... It's a beautiful love story, but not only of young love. It's also about family love and self love." - BellaorevBooks

"What a breath of fresh air 364 Days A Year was one of the most riveting, thought-provoking and unique stories I've read this year." - Yessi Smith, YA Author of Shallow

"This book is undeniably a 5 star read and one of the best books this year. I expected to like it but I ended up absolutely LOVING it." - Goodreads Reader

"There is so much to love about 364 Days... Riad doesn't disappoint, and just when you start to dry your eyes, she throws you one more reason to grab that tissue box." - One More Paige

"The unique storyline and creativity that went into it, is unlike any other YA read I've come across It was so well written and emotionally captivating." - Goodreads Reader