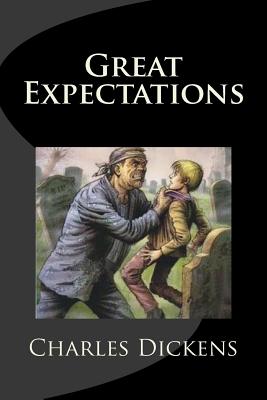 Great Expectations
Paperback

* Individual store prices may vary.
Other Editions of This Title:
Paperback (4/5/2013)
Paperback (5/25/2019)
Paperback (6/18/2013)
Paperback (12/4/2013)
Paperback (12/14/2012)
Paperback (11/2/2016)
Paperback (10/5/2018)
Paperback (6/14/2012)
Paperback (8/25/2008)
Paperback (5/31/2018)
Paperback (9/26/2018)
Paperback (12/11/2017)
Hardcover, Large Print (8/18/2008)
Paperback, Large Print (9/23/2018)
Paperback (7/6/2017)
Paperback (6/3/2017)
Paperback (6/7/2019)
Paperback (10/14/2018)
Paperback (4/24/2017)
Description
Pip, a young orphan living with his sister and her husband in the marshes of Kent, sits in a cemetery one evening looking at his parents' tombstones. Suddenly, an escaped convict springs up from behind a tombstone, grabs Pip, and orders him to bring him food and a file for his leg irons. Pip obeys, but the fearsome convict is soon captured anyway. The convict protects Pip by claiming to have stolen the items himself. One day Pip is taken by his Uncle Pumblechook to play at Satis House, the home of the wealthy dowager Miss Havisham, who is extremely eccentric: she wears an old wedding dress everywhere she goes and keeps all the clocks in her house stopped at the same time. During his visit, he meets a beautiful young girl named Estella, who treats him coldly and contemptuously. Nevertheless, he falls in love with her and dreams of becoming a wealthy gentleman so that he might be worthy of her.
Createspace Independent Publishing Platform, 9781724229618, 438pp.
Publication Date: July 26, 2018