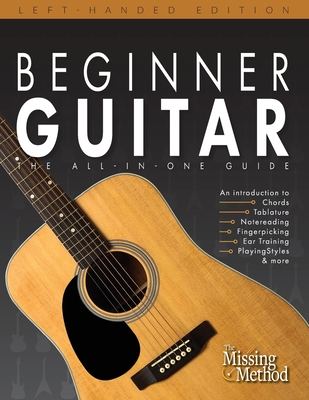 Beginner Guitar, Left-Handed Edition (Paperback)
The All-in-One Beginner's Guide to Learning Guitar
Createspace Independent Publishing Platform, 9781724348555, 190pp.
Publication Date: July 29, 2018
* Individual store prices may vary.
Description
Want to learn guitar but aren't sure where to start? Beginner Guitar will show you the way
Beginner Guitar is your all-in-one, step-by-step guide to help you enter the world of guitar playing. With photos, illustrations, audio examples, and over an hour of online video instruction to guide you, it's like taking a beginner guitar course from the comfort of your own home, on your schedule.
Choose how you want to learn
There are several different ways you can learn how to play guitar, and Beginner Guitar covers all of them so you can choose which method works best for you. If you're not sure how music works or your fingers aren't yet strong enough, then you can start by learning how to read music, which allows you to solve both of these problems at once. However, not everyone begins that way, many new players find strumming chords more fun, while others enjoy reading tablature. Beginner Guitar lets you try them all
It's everything you need to get started
For the price of a single guitar lesson, you'll get everything that most private instructors teach in the first couple years of lessons:
Learn to play chords, including power chords and progressions
Discover how much fun it can be to use tablature, read notes, and play by ear
Learn the best ways to practice to get better faster
Try out various playing styles-country, rock, folk, jazz, blues, and classical
Practice fingerpicking techniques
Learn how to care for your instrument, change strings, and tune
And much more
Beginner Guitar goes beyond just learning how to play. It also includes plenty of information that every new guitar player should know, such as what kind of strings you should use, common guitar accessories, and much more
Experience you can trust
With more than twenty years of experience teaching guitar, degrees in both guitar (Bachelor's in Jazz Studies) and education (Master's in Education), and over two dozen publications, Christian J. Triola has created an easy-to-use beginner book that gives you plenty to practice without making you feel overwhelmed or intimidated.
Why Wait?
Join the millions of people who have discovered the joy of playing guitar. Scroll up, order your copy, and get started today
This is a left-handed edition. Need a right-handed copy? We have that too Search for Beginner Guitar: The All-in-One Beginner's Guide to Learning Guitar
About the Author
Christian J. Triola is the author of The Missing Method for Guitar books including Guitar Chords Made Easy and The Missing Method for Guitar Note Reading Series. He holds a Bachelor's Degree in Music (Jazz Studies) and a Master's Degree in Education, has taught guitar, bass, mandolin, ukulele, and piano for over 15 years, and has played in a variety of bands in addition to his many solo performances. Learn more at TheMissingMethod.com.