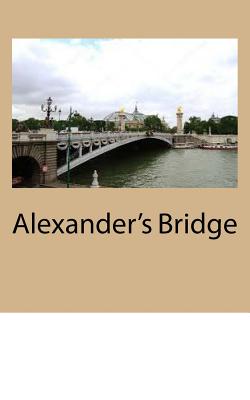 Alexander's Bridge (Paperback)
Createspace Independent Publishing Platform, 9781724827050, 108pp.
Publication Date: August 11, 2018
Other Editions of This Title:
Paperback (6/1/2015)
Paperback (3/30/2014)
Paperback (9/9/2019)
Paperback (3/16/2019)
Paperback (8/22/2018)
Paperback (12/24/2018)
Paperback (12/1/2004)
Paperback (4/4/2016)
Paperback (10/2/2019)
Paperback (4/6/2010)
Paperback (4/3/2015)
Paperback (11/1/2012)
Paperback (1/31/2020)
Paperback (7/30/2008)
Paperback (7/30/2008)
* Individual store prices may vary.
Description
Alexander's Bridge by Willa Cather Alexander's Bridge is the first novel by American author Willa Cather. First published in 1912, it was re-released with an author's preface in 1922. It also ran as a serial in McClure's, giving Cather some free time from her work for that magazine. Bartley Alexander is a construction engineer and world-renowned builder of bridges undergoing a mid-life crisis. Although married to Winifred, Bartley resumes his acquaintance with a former lover, Hilda Burgoyne, in London. The affair gnaws at Bartley's sense of propriety and honor. In this, Willa Cather's first novel, a successful bridge builder is torn between his beloved, charming wife and a beautiful Irish actress who had been his first love and has now returned to enchant and disrupt his life. We are delighted to publish this classic book as part of our extensive Classic Library collection. Many of the books in our collection have been out of print for decades, and therefore have not been accessible to the general public. The aim of our publishing program is to facilitate rapid access to this vast reservoir of literature, and our view is that this is a significant literary work, which deserves to be brought back into print after many decades. The contents of the vast majority of titles in the Classic Library have been scanned from the original works. To ensure a high quality product, each title has been meticulously hand curated by our staff. Our philosophy has been guided by a desire to provide the reader with a book that is as close as possible to ownership of the original work. We hope that you will enjoy this wonderful classic work, and that for you it becomes an enriching experience.