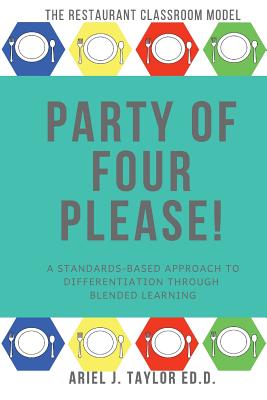 Party of Four Please! (Paperback)
Differentiation at Its Best
Createspace Independent Publishing Platform, 9781724892249, 112pp.
Publication Date: September 2, 2018
* Individual store prices may vary.
Description
Party of Four Please the restaurant classroom model is a standards-based approach to differentiation through the vehicle of blended learning. Schools who have implemented this model have closed student achievement gaps, experienced tremendous student growth and received state distinctions.From the Author: In this book I share my experiences with effective instruction. I highlight one particular model that I found extremely successful in terms of teaching all of my students everyday. The purpose of the book is to spark an interest in teachers minds and cause them to consider if they are effectively differentiating their instruction. The book uses analogies to drive home the what, why and how to differentiation. My goal is to provide teachers with a new perspective on the process, and assist them in crafting and implementation strategy that works for them Reading this book will benefit teachers of all experience ranges and grade levels. If it does nothing else, but spark conversation, curiosity and consideration, it has done what it was intended to do.Readers will explore the what, the why and the how of this innovative strategy in this step-by-step guide with concrete strategies, samples menus and ready-to-use resources grounded in the Texas Essential Knowledge and Skills.
About the Author
Ariel J. Taylor, Ed.D., is the founder of Elevation Station EDU, an educational enrichment group that provides professional development for teachers and tutoring services for students. She earned a Doctorate of Education in Professional Leadership and Policy Studies from the University of Houston. She also earned a Bachelor of Science in Mathematics and a Master of Arts in Mathematics from the University of Texas at Austin. She is a proud alumni of the University of Texas UTeach Program. Additionally, she is principal and superintendent certified. Dr. Taylor has served as an educator for eight years in the roles of high school math teacher, secondary math specialist, and college math instructor. She has presented at schools and conferences around the world to assist educators in providing quality learning opportunities. She believes in the importance of authentic engagement and student accountability. Schools that she has served have experienced student growth, closed achievement gaps, and received state distinctions. As founding director of the non-profit organization, The RISE Project of Wharton, TX, she works to encourage, inspire, and empower youth of all ages. Her life is dedicated to assisting youth in recognizing their self-worth and reaching beyond what they can see.