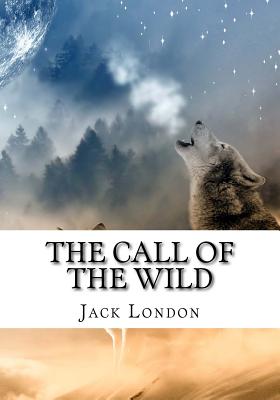 The Call Of The Wild (Paperback)
Createspace Independent Publishing Platform, 9781724905987, 78pp.
Publication Date: August 7, 2018
Other Editions of This Title:
Digital Audiobook (5/24/2010)
Paperback (3/8/2018)
Paperback (10/9/2015)
Paperback (11/5/2015)
Paperback (8/12/2016)
Paperback (10/19/2019)
Paperback (12/20/2011)
Paperback (4/14/2019)
Paperback (4/28/2016)
Paperback (8/29/2017)
Paperback (4/29/2015)
Paperback (7/12/2019)
Paperback (10/1/2018)
Paperback (1/3/2019)
Paperback (8/24/2018)
Paperback (2/11/2019)
Paperback (4/5/2015)
Paperback (1/22/2014)
Paperback (2/9/2017)
* Individual store prices may vary.
Description
Buck was a dog who lived in a big housein the sunny California. His life was peaceful and full of cheer.Buck was guarding the house and his people, and he enjoyed it. He was strong and big with long hair. One day, Buck was sold to an unknown man by a money thirsty servant. The new ownertook him as far away from his home as possible. Once again Buck was sold, this time, toa government man named Francois. His job was to carry mail to distant places like Alaska. Although Buck got the opportunity to see snow for the first time in his life he also encountered hardships. Most of the time, he was pulling the sleigh with other dogs and delivering mail.For his bravery, Buck became the leader of the dogs. Then he learned the first lesson that was important for him to survive - it was never to fall because if he did that, he would get torn apart by the other dogs. After some time he got some new owners. This new owners; Charles, Hal, and Mercedes owned sleigh as well but they had no experience with that job. They also refused to take any advice from other people and did not take care of their dogs. They tortured them, and that was the reason why they had fewer dogs each day. Hal has been particularly brutal to their dogs. It so happened that one day, the sleigh stoppedin front of John's cabin. Saying that Buck was tired is an understatement - he was exhausted. He refused to get up after being punched by his owners. Because John could not watch Buck get beaten by Hal, he confronted Hal who drew out a knife and approached John. John was able to take the knife away. Without Buck, the sleigh moved forward. Despite being warned by Hal about the thinness of the ice, Hal did not listen and they all drowned in the river when the ice broke. John stayed with Buck. John tended to all of Bucks needs: food, washing him and he kept him safe. Buck reciprocated with loyalty and love. In addition to that, Buck saved John from a river and at one point John earned 1.600 dollars thanks to Buck. John chose to do something good with the money. He purchased gold-digging equipment and the duo embarked on a journey to the wilderness in search of gold. They found it and while they were working the dogs were resting, Buck then felt the call of the wild. He felt something that pulled him deeper and deeper into the forest. He felt an urge that distanced him more and more from his owner John who he loved more than anything. He encountered a wolf in the forest and when he felt the urge to hunt, he killed a moose. Meanwhile, John was attacked by the Indians and was killed. When he came back, Buck attacked the Indians, and they ran away. After John's death, Buck was left alone and he was very sad. A pack of wolfs came to the lake. After a struggle Buck joined them, came back to his roots and the nature he came out of. He was completely free. The legend of a dog that look like a wolf, who came to the cabin to grieve was told years after.