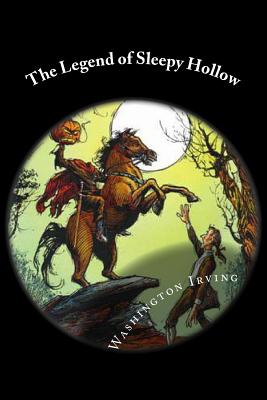 The Legend of Sleepy Hollow
Paperback

* Individual store prices may vary.
Other Editions of This Title:
Paperback (6/13/2017)
Paperback (2/20/2020)
Paperback (6/3/2017)
Paperback (2/1/2019)
Paperback (3/17/2007)
Paperback (9/23/2015)
Paperback (9/12/2008)
Paperback (12/5/2011)
Paperback (11/5/2015)
Paperback (11/27/2017)
Paperback (2/24/2013)
Paperback (11/23/2015)
Paperback (2/14/2020)
Paperback (9/1/2004)
Paperback (1/3/2019)
Paperback (11/4/2018)
Paperback (9/29/2010)
Paperback (4/20/2013)
Paperback (4/22/2015)
Description
"The Legend of Sleepy Hollow" tells the story of Ichabod Crane and his hapless attempt to win the heart and hand of Katrina Van Tassel in the context of a comical ghost story. Ichabod comes to Sleepy Hollow, New York, from his home state of Connecticut, to be the schoolmaster of the village. Sleepy Hollow is a small, very quiet town said to be under some kind of enchantment. Its residents all seem to move a little slower, daydream a little more, and be more prone to believe in the supernatural. Sleepy Hollow, maybe for that reason or maybe because its residents are almost all descended from its original Dutch settlers, has more than its fair share of supernatural occurrences, or at least stories of them.
Createspace Independent Publishing Platform, 9781724927941, 28pp.
Publication Date: August 8, 2018