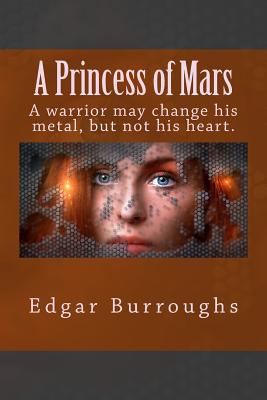 A Princess of Mars (Paperback)
A Warrior May Change His Metal, But Not His Heart.
Createspace Independent Publishing Platform, 9781725057784, 162pp.
Publication Date: August 11, 2018
Other Editions of This Title:
Paperback, Icelandic (12/6/2018)
Paperback (7/30/2008)
Paperback (4/12/2019)
Paperback, Bosnian (11/26/2018)
Paperback (8/12/2019)
Paperback (5/16/2018)
Paperback (8/24/2007)
Paperback (12/7/2011)
Paperback (3/18/2017)
Paperback (9/21/2017)
Paperback (7/3/2003)
Paperback (9/1/2004)
Paperback (8/14/2019)
Paperback, Large Print (5/2/2006)
Paperback (9/7/2018)
Paperback (6/22/2012)
* Individual store prices may vary.
Description
" Her oval face was beautiful in the extreme, her every feature finely chisled and exquisite, her eyes large and lustrous and her head surmounted by a mass of coal black, waving hair, caught loosely into a strange yet becoming coiffure. Similar in face and figure to women of Earth, she was nevertheless a true Martian--and prisoner of the fierce green giants who held me captive, as well " A Princess of Mars is a science fantasy novel by American writer Edgar Rice Burroughs, the first of his Barsoom series. It was first serialized in the pulp magazine All-Story Magazine from February-July, 1912. Full of swordplay and daring feats, the novel is considered a classic example of 20th-century pulp fiction. The story is set on Mars, imagined as a dying planet with a harsh desert environment. This vision of Mars was based on the work of the astronomer Percival Lowell, whose ideas were widely popularized in the late 19th and early 20th centuries.