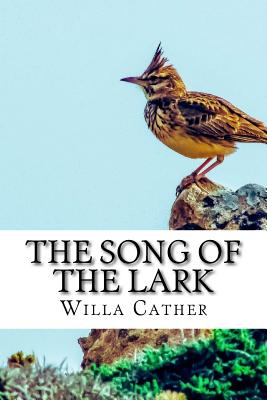 The Song of the Lark (Paperback)
Createspace Independent Publishing Platform, 9781726008860, 276pp.
Publication Date: August 23, 2018
Other Editions of This Title:
Digital Audiobook (1/15/2012)
Digital Audiobook (11/1/2010)
Paperback (4/30/2010)
Paperback (8/27/2012)
Paperback (7/30/2018)
Paperback (8/9/2018)
Paperback (9/25/2010)
Paperback (7/18/2007)
Paperback (1/3/2020)
Paperback (10/17/2019)
Paperback (9/29/2018)
Paperback (2/2/2009)
Paperback (6/8/2019)
* Individual store prices may vary.
Description
The Song of the Lark is the third novel by American author Willa Cather, written in 1915. The Song of the Lark is generally considered to be the second novel in Cather's Prairie Trilogy, following O Pioneers (1913) and preceding My ntonia (1918). Set in the 1890s in Moonstone, a fictional town located in Colorado, The Song of the Lark is the self-portrait of an artist in the making. The story revolves around an ambitious young heroine, Thea Kronborg, who leaves her hometown to go to the big city to fulfill her dream of becoming a well-trained pianist, a better piano teacher. When her piano instructor hears her voice, he realizes that this is her true artistic gift. He encourages her to pursue her vocal training instead of piano saying ... "your voice is worth all that you can put into it. I have not come to this decision rashly." The novel captures Thea's independent-mindedness, her strong work ethic, and her ascent to her highest achievement. At each step along the way, her realization of the mediocrity of her peers propels her to greater levels of accomplishment, but in the course of her ascent she must discard those relationships which no longer serve her.