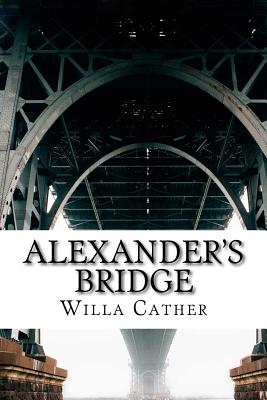 Alexander's Bridge (Paperback)
Createspace Independent Publishing Platform, 9781726012454, 72pp.
Publication Date: August 22, 2018
Other Editions of This Title:
Paperback (6/1/2015)
Paperback (3/30/2014)
Paperback (8/11/2018)
Paperback (9/9/2019)
Paperback (3/16/2019)
Paperback (12/24/2018)
Paperback (12/1/2004)
Paperback (4/4/2016)
Paperback (10/2/2019)
Paperback (4/6/2010)
Paperback (4/3/2015)
Paperback (11/1/2012)
Paperback (1/31/2020)
Paperback (7/30/2008)
Paperback (7/30/2008)
* Individual store prices may vary.
Description
Alexander's Bridge is the first novel by American author Willa Cather, first published in 1912.Alexander's Bridge is an amazing story about a successful engineer and his simultaneous romantic relationships with two brilliant and capable women. Bartley Alexander is a construction engineer and world-renowned builder of bridges undergoing a mid-life crisis. Although married to Winifred, Bartley resumes his acquaintance with a former lover, Hilda Burgoyne, in London. The affair gnaws at Bartley's sense of propriety and honor. Alexander, for many good reasons, not only loves Hilda (his current mistress and first love), but maybe as importantly he also loves the person he was in his youth when he was around her chemistry and environments. And he regularly struggles with his present life, where his marriage, career, and all the related societal and work obligations have taken over almost all his time and concerns. Throughout the story, he is consciously, but also unconsciously, struggling with the relentless memories of the past.Alexander's Bridge is an intelligent exploration of morality, ethics, and dualities.