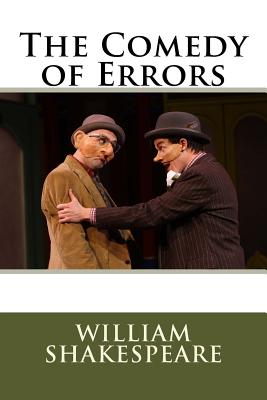 The Comedy of Errors (Paperback)
Createspace Independent Publishing Platform, 9781726491174, 140pp.
Publication Date: September 6, 2018
Other Editions of This Title:
Paperback (8/14/2016)
Paperback (11/4/2017)
Paperback (4/30/2016)
Paperback (12/16/2018)
Paperback (4/30/2016)
Paperback (8/23/2018)
Paperback (6/16/2016)
Paperback (7/20/2018)
Paperback (7/18/2019)
Paperback (3/9/2019)
Paperback (8/16/2018)
Paperback (1/26/2019)
Paperback (5/11/2017)
Paperback (12/12/2015)
Paperback (4/25/2014)
Paperback (5/25/2016)
* Individual store prices may vary.
Description
The Comedy of Errors by William Shakespeare 'd me to seek delays for them and me. And this it was, --for other means was none.-- The sailors sought for safety by our boat, And left the ship, then sinking-ripe, to us; My wife, more careful for the latter-born, Had fast'ned him unto a small spare mast, Such as sea-faring men provide for storms: To him one of the other twins was bound, Whilst I had been like heedful of the other. The children thus dispos'd, my wife and I, Fixing our eyes on whom our care was fix'd, Fast'ned ourselves at either end the mast, And, floating straight, obedient to the stream, Were carried towards Corinth, as we thought.