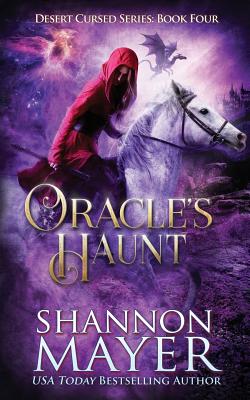 Oracle's Haunt
Paperback

* Individual store prices may vary.
Description
The forth book in the plot twisting, heart pounding, magic-riddled, USA Today bestselling Desert Cursed series.

Hope is a four letter word. Yet, I can't help but hope that the Oracle will be the answer to what I seek.

But getting to the Oracle is no small thing as she resides in the center of the Blasted lands-toxic waste, lava, and monsters. And as the alpha of our Pride, it's up to me to act responsibly and not get my people all killed.

Driving us from behind comes the desert goddess whose rage is centered on me, and with her is a new ally, who still holds my heart in his hands. One whose voice calls to me still.

Eyes on the prize, I will push forward, even though hope feels weak and pointless. Along the way, maybe my heart will heal, maybe I'll bring my brother back from the dead, maybe this will turn out okay after all.

Or maybe I will lose everything, and everyone I hold dear and discover I'm not meant to save anyone.

Hope might spring eternal, but she's a right bitch as far as I can see.

If you like KF Breene, Ilona Andrews, Patricia Briggs, Faith Hunter, Jaymin Eve, Kelley Armstrong, Kim Harrison, or Shayne Silvers, you won't want to miss Mayer's books

Independently Published, 9781726625326, 300pp.
Publication Date: October 22, 2018