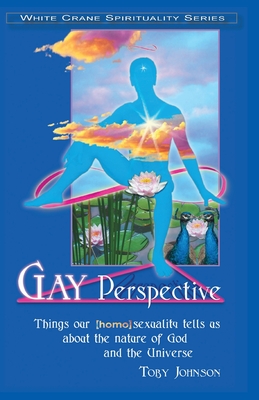 Gay Perspective
Things our [homo]sexuality tells us about the nature of God and the Universe
Paperback

* Individual store prices may vary.
Description
Gay Perspective shows how the experience of being an outsider, a deviant with different feelings and attitudes, and not part of the ordinary human round of birth, reproduction, and death gives us a particular perspective and influences how we see the world-and especially how we understand "God" and the supernatural things alluded to in religion. Titled before "queer" became an accepted umbrella term for sexual and gender deviations of all sorts, i.e., LGBTQIA, and written from a gay man's perspective, this book has become a classic, unlike anything else written about the queer experience of growing up different. In this companion volume to his critically acclaimed, Lambda Literary Award-winning title Gay Spirituality, Toby Johnson further explicates his visionary stance that gay people's nature as outsiders gives them a uniquely powerful perspective on the nature of God and religion. By living outside gender norms, gay people are more open to seeing across boundaries of gender and gain access to a less dualistic outlook on the nature of life. Once again, Johnson approaches this potentially controversial subject matter with erudition, empathy and visionary speculation and gives meaning to gay consciousness beyond superficial issues of sexual behavior. This revised edition includes a new Preface and extensive updating and expansion. A White Crane Gay Spirituality Series Selection. Still timely and insightful.
Createspace Independent Publishing Platform, 9781727348446, 264pp.
Publication Date: September 13, 2018