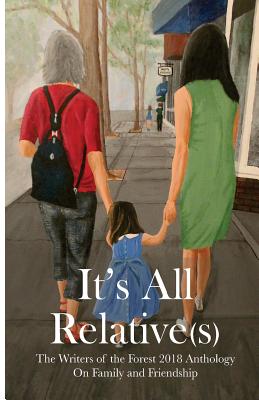 It's All Relative(s)
Paperback

* Individual store prices may vary.
Description
We all have an idea of family and not necessarily the same idea. Sometimes family means just our relatives. But sometimes family means even more. Inside these pages you will find stories involving friends, family and . . . others. Turn back the cover and explore what the Writers of the Forest mean by It's All Relative(s).
Createspace Independent Publishing Platform, 9781727610130, 176pp.
Publication Date: October 6, 2018
About the Author
Every week we gather, people who have a desire to write and who value one another's friendship and insight. We write fiction, nonfiction, articles, essays, and poems along with the occasional untethered stream of consciousness. Our format challenges the writer, by way of prompts, to spend twenty minutes, without any prior preparation, developing such pieces. The prompts, or idea kick-starters, are sometimes vague and up to interpretation that, almost without fail, stimulate the creative juices. Think for yourself where your imagination runs after you hear: "the silence woke her..." It is the artistic skill of the writer that then takes you somewhere by crafting words on paper. We are generous with our help, keenly, but kindly analytical of one another's work, and delivered in the spirit of improving our craft. Time in our gatherings flies quickly, but there is always the promise of a future meeting to look forward to until we can once again sate our need to write.