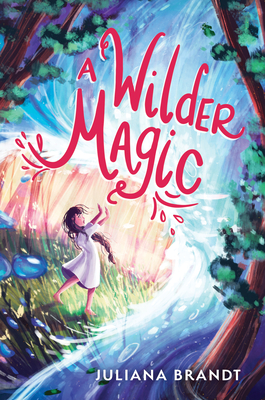 A Wilder Magic
Hardcover

* Individual store prices may vary.
Description
From the author of The Wolf of Cape Fen comes a beautiful and lyrical standalone story about one family with magic in their bones, who are tied to the mountain valley in which they live in more ways than one. And what happens when the land they love is destined to be flooded, whether or not they're still on it.
For generations, Sybaline's family has lived in a magical valley in the Appalachian mountains, helping the magic grow the land. But now the government has ordered them to relocate; their valley is needed to create a dam for electricity. In one week, their home will be flooded.
Sybaline can't imagine life without her home and without the magic. Stopping the dam proves to be impossible; the government is too big and too strong. She takes the only choice left: she stays. Using her magic, she builds a wall, and as water floods the valley, it covers her house, leaving her living beneath the lake itself.
But there is a consequence to using magic in such a way, one that will transform both herself and the friends who end up trapped beneath the water with her. If she can't find a way to escape the prison she's created, both she and those she loves will end up staying in the watery grave of the valley forever.
Praise for The Wolf of Cape Fen:
"A stunning seaside fairy tale that will absorb readers until the very end."--Booklist
"A mesmerizing piece of magical realism packed with mystery, suspense, and, most important, love."--School Library Journal
"Intriguing mystery... Laced with dreams, this perplexing fantasy rewards persistent readers."--Kirkus Reviews
"Softly spangled black and white chapter title illustrations preface brief dream interludes belonging to other Fenians, emphasizing that the whole community is bound up in the baron's magic and helping to harmonize the novel's contrasting moods of coastal-town hominess and stark unease."--BCCB
Sourcebooks Young Readers, 9781728209647, 272pp.
Publication Date: May 4, 2021