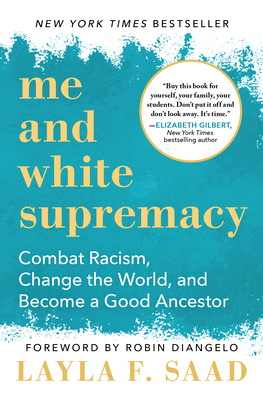 Me and White Supremacy
Combat Racism, Change the World, and Become a Good Ancestor
Hardcover

* Individual store prices may vary.
Description
The New York Times and USA Today bestseller! This eye-opening book challenges you to do the essential work of unpacking your biases, and helps white people take action and dismantle the privilege within themselves so that you can stop (often unconsciously) inflicting damage on people of color, and in turn, help other white people do better, too.
"Layla Saad is one of the most important and valuable teachers we have right now on the subject of white supremacy and racial injustice."—New York Times bestselling author Elizabeth Gilbert
Based on the viral Instagram challenge that captivated participants worldwide, Me and White Supremacy takes readers on a 28-day journey, complete with journal prompts, to do the necessary and vital work that can ultimately lead to improving race relations.
Updated and expanded from the original workbook (downloaded by nearly 100,000 people), this critical text helps you take the work deeper by adding more historical and cultural contexts, sharing moving stories and anecdotes, and including expanded definitions, examples, and further resources, giving you the language to understand racism, and to dismantle your own biases, whether you are using the book on your own, with a book club, or looking to start family activism in your own home.
This book will walk you step-by-step through the work of examining:
Examining your own white privilege
What allyship really means
Anti-blackness, racial stereotypes, and cultural appropriation
Changing the way that you view and respond to race
How to continue the work to create social change
Awareness leads to action, and action leads to change. For readers of White Fragility, White Rage, So You Want To Talk About Race, The New Jim Crow, How to Be an Anti-Racist and more who are ready to closely examine their own beliefs and biases and do the work it will take to create social change.
"Layla Saad moves her readers from their heads into their hearts, and ultimately, into their practice. We won't end white supremacy through an intellectual understanding alone; we must put that understanding into action."—Robin DiAngelo, author of New York Times bestseller White Fragility
Praise For Me and White Supremacy: Combat Racism, Change the World, and Become a Good Ancestor…
"Layla Saad's Me and White Supremacy is an indispensable resource for white people who want to challenge white supremacy but don't know where to begin. She moves her readers from their heads into their hearts, and ultimately, into their practice. We won't end white supremacy through an intellectual understanding alone; we must put that understanding into action." — Robin DiAngelo, author of New York Times bestseller White Fragility
"She is no-joke changing the world and, for what it's worth, the way I live my life." — Anne Hathaway
"Her work is personal, practical, reflective, applicable, difficult, effective, and imperative. For the millions of us beginning to know where to begin -- where to begin to counteract our ugly history, and where to stand during this historical moment of polarization and hate -- Layla answers: Begin with me. Begin with you." — Glennon Doyle, author of #1 New York Times bestseller Love Warrior and founder of Together Rising
"As an educator and writer in this space, I well understand the difficulties of productive discourse on topics like white supremacy, white fragility, and complicity. In Me and White Supremacy, Layla not only engages readers effectively – she hands them the tools they need to change themselves so that they can better the lives of millions of people worldwide." — Rachel Cargle, activist, writer, and lecturer
"Allyship means taking action. How? Layla Saad's Me and White Supremacy teaches readers exactly how to get past the paralysis of white fragility so that they can build bridges, not walls. Read the book, look deep within yourself, sit with your discomfort, and then act. This is how we can truly say we are doing everything we can to combat white supremacy." — Sophia Bush, award-winning actress and activist
"Layla Saad's pioneering work Me and White Supremacy is a rallying call, for those humble enough to answer, to stop and examine how dominant systems shape how white people see themselves, see others and how they move through the world. Saad takes readers by the hand and holds a mirror up for readers to confront everything conscious and subconscious, that lies within their beliefs. She invites readers to dive deeper and do reflective exercises to cement the work. I applaud Layla for putting to paper this truly transformative work. Me and White Supremacy summons forth a new type of leadership and accountability that this time so desperately calls for and is the pathway to a greater healing that generations of people and communities so desperately need." — Latha, Wellnessm Thomas Maven, Celebrity Doula, Best-selling author of Own Your Glow and founder of Mama Glow.
"America needed this book yesterday. In fact, America has always needed this book. Layla Saad is one of the most important and valuable teachers we have right now on the subject of white supremacy and racial injustice. With keen intelligence and tireless patience, she is working to remove our collective cultural blind spots and to help—at last—change minds and transform society. I have the deepest respect for her. Buy this book for yourself, your family, your students. Don't put it off and don't look away. It's time." — New York Times bestselling author Elizabeth Gilbert
"Layla Saad is one of the most important and valuable teachers we have right now on the subject of white supremacy and racial injustice." — Elizabeth Gilbert, New York Times bestselling author
"A timely and thoughtful guide that transforms truth-telling into accessible and actionable change in hearts, minds, and communities worldwide." — Jamia Wilson, author, and publisher of the Feminist Press
"For many Black women that do public justice education work, Layla Saad's Me and White Supremacy has become a major part of our self-care. Now not only do we have more accessible and contemporary language for "How" to speak about the invention of whiteness and the traumas of global white supremacy, but we have a toolkit to point to that does a great deal of this work for us - all in one place. The book is self-care because it helps to eliminate the responsibility of the oppressed to shoulder the burden of educating the oppressor. I suspect that as a result of Me and White Supremacy, we will never be the same." — EbonyJanice Moore, author, activist, scholar, and founder of Black Girl Mixtape Institute
"Layla Saad is an unapologetic force against white supremacy. In a world where the scales of power tip painfully in favor of injustice, Layla gives us the tools to look within, confront internalized oppression, challenge our biases and learn how to do better for one another." — Jasmin Kaur, author of When You Ask Me Where I'm Going
"Layla Saad is doing sacred work. Because in her effort to protect, center, and advance the well-being of Black folks, she is healing the soul of all humanity. This book is a revolution that will create ripples and waves for an entire generation of truth-seekers." — Rebekah Borucki, best-selling author of Managing the Motherload
"With equal parts love, brilliance, and vulnerability, Layla F. Saad has given us a guidebook for healing and transformation for the self and the world… I want to press this book into everyone's hands, to urge, Read this. This is one of those rare books where the author has given us the profound gift of her entirety poured into pages, attaching additional meaning to the phrase, "The book of a lifetime." It is indeed a book belonging to multiple narratives: yours, mine, hers. The book of a lifetime that will transform lives." — Reema Zaman, award-winning actress, speaker, activist, and author of I Am Yours
"A bracing, highly useful tool for any discussion of combating racism. " — Kirkus Reviews
"Me and White Supremacy will help readers stand up for what is right and make a positive change in the world." — SheReads
"An important book about taking ownership of racist behavior and making changes that are not easy, convenient, or comfortable...should be required reading for people ready to acknowledge their behaviors, whether intentional or not." — Library Journal, STARRED review
"This small but intense book which provokes readers to take personal ownership of the effort to dismantle systemic racism...This book is not for the oppressed or the marginalized, but rather for those whose privilege, when left unchecked, has harmful consequences. Saad has created an insightful and necessary contribution to the work of combating racism and becoming good ancestors." — Booklist, STARRED review
"Must be considered mandatory reading for anyone having to deal with the social injustice arising from racism and bigotry that has seen a dramatic resurgence in our American culture and society. " — Midwest Book Review
"Me and White Supremacy is an effective tool for individuals to start their journeys into the work of addressing larger systems of racism and oppression. " — Shelf Awareness for Readers, STARRED review
Sourcebooks, 9781728209807, 256pp.
Publication Date: January 28, 2020
About the Author
Layla Saad is a globally respected writer, speaker and podcast host on the topics of race, identity, leadership, personal transformation and social change.
As an East African, Arab, British, Black, Muslim woman who was born and grew up in the West, and lives in Middle East, Layla has always sat at a unique intersection of identities from which she is able to draw rich and intriguing perspectives. Layla's work is driven by her powerful desire to 'become a good ancestor'; to live and work in ways that leave a legacy of healing and liberation for those who will come after she is gone.
Me and White Supremacy is Layla's first book. Initially offered for free following an Instagram challenge under the same name, the digital Me And White Supremacy Workbook was downloaded by close to ninety thousand people around the world in the space of six months, before becoming a traditionally published book. Layla's work has been brought into homes, educational institutions and workplaces around the world that are seeking to create personal and collective change.
Layla earned her Bachelor of Law degree from Lancaster University in the United Kingdom. She lives in Doha, Qatar with her husband, Sam, and two children, Maya and Mohamed. Find out more about Layla at www.laylafsaad.com.
1. How will we collectively and actively continue to practice the work of antiracism and dismantling white supremacy?
2. How can we amplify and support our local, state, federal, and global BIPOC communities and organizations? What are some specific actions we can take and how will we hold ourselves accountable?
3. How can we facilitate change and inspire growth in our personal lives and systemically? Are our local and state governments actively engaged in antiracism work? If not, how can we engage them in change?
4. Is the group interested in continuing to discuss some of Layla's suggested books, podcasts, films, and/or documentaries? What would those discussions look like?
5. Would the group be interested in following up and revisiting Me and White Supremacy in one month, six months, or a year? How could repeating the process of reflecting on Layla's prompts be beneficial?
6. How did processing Me and White Supremacy as a group help and/or further our antiracism journey and confronting our relationship with white supremacy? How do we feel we have changed over the course of these group meetings?
7. How are we showing up differently for the Black and Brown people in our life? What specific actions are we taking to be present for BIPOC?