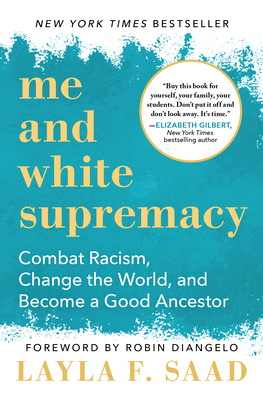 Me and White Supremacy
Combat Racism, Change the World, and Become a Good Ancestor
Hardcover

* Individual store prices may vary.
Description
The New York Times and USA Today bestseller This eye-opening book challenges you to do the essential work of unpacking your biases, and helps white people take action and dismantle the privilege within themselves so that you can stop (often unconsciously) inflicting damage on people of color, and in turn, help other white people do better, too.
"Layla Saad is one of the most important and valuable teachers we have right now on the subject of white supremacy and racial injustice."--New York Times bestselling author Elizabeth Gilbert
Based on the viral Instagram challenge that captivated participants worldwide, Me and White Supremacy takes readers on a 28-day journey, complete with journal prompts, to do the necessary and vital work that can ultimately lead to improving race relations.
Updated and expanded from the original workbook (downloaded by nearly 100,000 people), this critical text helps you take the work deeper by adding more historical and cultural contexts, sharing moving stories and anecdotes, and including expanded definitions, examples, and further resources, giving you the language to understand racism, and to dismantle your own biases, whether you are using the book on your own, with a book club, or looking to start family activism in your own home.
This book will walk you step-by-step through the work of examining:
Examining your own white privilege
What allyship really means
Anti-blackness, racial stereotypes, and cultural appropriation
Changing the way that you view and respond to race
How to continue the work to create social change
Awareness leads to action, and action leads to change. For readers of White Fragility, White Rage, So You Want To Talk About Race, The New Jim Crow, How to Be an Anti-Racist and more who are ready to closely examine their own beliefs and biases and do the work it will take to create social change.
"Layla Saad moves her readers from their heads into their hearts, and ultimately, into their practice. We won't end white supremacy through an intellectual understanding alone; we must put that understanding into action."--Robin DiAngelo, author of New York Times bestseller White Fragility
Sourcebooks, 9781728209807, 256pp.
Publication Date: January 1, 2020
1. How will we collectively and actively continue to practice the work of antiracism and dismantling white supremacy?
2. How can we amplify and support our local, state, federal, and global BIPOC communities and organizations? What are some specific actions we can take and how will we hold ourselves accountable?
3. How can we facilitate change and inspire growth in our personal lives and systemically? Are our local and state governments actively engaged in antiracism work? If not, how can we engage them in change?
4. Is the group interested in continuing to discuss some of Layla's suggested books, podcasts, films, and/or documentaries? What would those discussions look like?
5. Would the group be interested in following up and revisiting Me and White Supremacy in one month, six months, or a year? How could repeating the process of reflecting on Layla's prompts be beneficial?
6. How did processing Me and White Supremacy as a group help and/or further our antiracism journey and confronting our relationship with white supremacy? How do we feel we have changed over the course of these group meetings?
7. How are we showing up differently for the Black and Brown people in our life? What specific actions are we taking to be present for BIPOC?