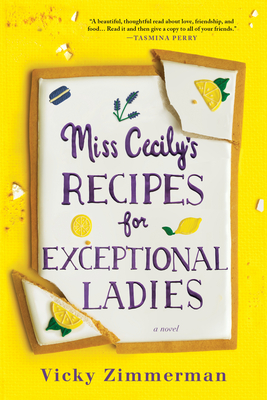 Miss Cecily's Recipes for Exceptional Ladies (Paperback)
Sourcebooks Landmark, 9781728210230, 432pp.
Publication Date: June 9, 2020
Other Editions of This Title:
MP3 CD (6/9/2020)
Compact Disc (6/9/2020)
Library Binding, Large Print (8/26/2020)
* Individual store prices may vary.
Description
"A can't-miss title for fans of chick lit and modern women's fiction."--Library Journal, STARRED review
An unlikely friendship between two stubborn, lonely souls anchors this big-hearted book and dares us all to ask for more.
When her life falls apart on the eve of her 40th birthday, Kate Parker finds herself volunteering at the Lauderdale House for Exceptional Ladies. There she meets 97-year-old Cecily Finn. Cecily's tongue is as sharp as her mind, but she's fed up with pretty much everything.
Having no patience for Kate's choices in life or love, Cecily prescribes her a self-help book...of sorts.
Thought for Food
: an unintentionally funny 1950s cookbook high on enthusiasm, featuring menus for anything life can throw at the "easily dismayed," such as: Breakfast with a HangoverTea for a Crotchety AuntDinner for a Charming Stranger
As she and Cecily break out of their ruts, Kate will learn far more than recipes.
A feel-good summer read with a wicked sense of humor, Vicky Zimmerman's book will teach you that food is for feasting, friends are for savoring, and the way to a man's heart is...irrelevant.
Fans of Jennifer Weiner, Elin Hildenbrand, and Sophie Kinsella will delight in this recipe for confidence, romance, and fun.