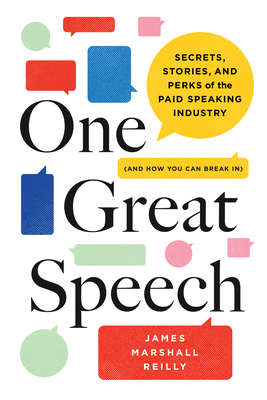 One Great Speech
Secrets, Stories, and Perks of the Paid Speaking Industry (and How You Can Break In)
Hardcover

* Individual store prices may vary.
Description
Tell your story, change your life
Think about people who are paid to speak at events... They're all famous, experts in their fields, or have a tragic life-story to share, right? Wrong. The truth is that every year, thousands of ordinary people take in six-figure salaries--just from public speaking. Listen in as James Marshall Reilly, a highly successful speaking agent, shares closely guarded industry knowledge about the world of paid speaking. With the right know-how, anyone can harness the power of this career path for themselves--Reilly's seen it happen. With these insider tricks, you'll be well on your way to public speaking success. This book has everything you need to know about the industry, like:
The inner workings of the paid speaking industry, including tips, tricks, and closely-guarded secretsHow to develop a brand and own your nicheHow to create the perfect one sheet and find an agentWhat to do to prepare for your first great speech, and every speech after thatHow to deal with failure and come back even stronger
Packed with engaging case studies, tips, and inside information on this mostly-unregulated industry, One Great Speech is the only complete resource that teaches you the ins and outs of the world of paid speaking. All it takes is one great speech to make it big
Sourcebooks, 9781728214283, 320pp.
Publication Date: October 6, 2020