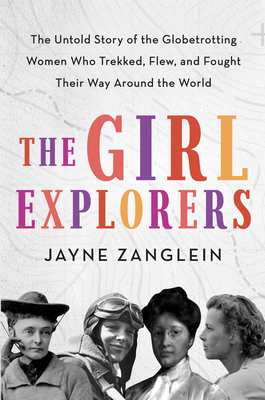 The Girl Explorers
The Untold Story of the Globetrotting Women Who Trekked, Flew, and Fought Their Way Around the World
Hardcover

* Individual store prices may vary.
Other Editions of This Title:
Digital Audiobook (3/1/2021)
Paperback (3/15/2022)
Compact Disc (3/2/2021)
MP3 CD (3/2/2021)
Description
Never tell a woman where she doesn't belong.
In 1932, Roy Chapman Andrews, president of the men-only Explorers Club, boldly stated to hundreds of female students at Barnard College that "women are not adapted to exploration," and that women and exploration do not mix. He obviously didn't know a thing about either...
The Girl Explorers is the inspirational and untold story of the founding of the Society of Women Geographers—an organization of adventurous female world explorers—and how key members served as early advocates for human rights and paved the way for today's women scientists by scaling mountains, exploring the high seas, flying across the Atlantic, and recording the world through film, sculpture, and literature.
Follow in the footsteps of these rebellious women as they travel the globe in search of new species, widen the understanding of hidden cultures, and break records in spades. For these women dared to go where no woman—or man—had gone before, achieving the unthinkable and breaking through barriers to allow future generations to carry on their important and inspiring work.
The Girl Explorers is an inspiring examination of forgotten women from history, perfect for fans of bestselling narrative history books like The Radium Girls, The Woman Who Smashed Codes, and Rise of the Rocket Girls.
Praise For The Girl Explorers: The Untold Story of the Globetrotting Women Who Trekked, Flew, and Fought Their Way Around the World…
"In riveting detail that builds to insightful crescendo, Girl Explorers reveals feats and firsts of remarkable achievers who we'd already know if they weren't women. It's about time." — Dr. Margaret Willson, cultural anthropologist and author of Seawomen of Iceland

"With careful research and clear enthusiasm for her subjects, Zanglein makes a strong case that restoring these pioneers to the spotlight will "give a new generation of women courage to chisel away at the glass ceiling." Armchair adventurers will thrill to this inspirational account." — Publishers Weekly

"The Girl Explorers takes the reader on adventures with American women explorers of the early 1900s...Early members were suffragists, mountain climbers, aviators, polar explorers, scientists, geographers, anthropologists, prison reformers, as well as civil rights activists and politicians...These women are finally being given the credit they deserve in this interesting new book that men and women, and young and old will enjoy." — Caroline (Siffy) Torkildson, current president the Society of Woman Geographers

"Jayne Zanglein's THE GIRL EXPLORERS is both a celebration and a reminder that not only can women hike, climb, fly, and swim with the best of them, but they've been doing it all along...This well-researched and enjoyable book restores women to their proper place in history, which is: anywhere they want to go." — Melissa L. Sevigny, author of Mythical River and Under Desert Skies

"The Girl Explorers profiles intrepid women who dared to leave their skirts under rocks to boldly occupy space their male counterparts did. A compelling collection of intrepid women -- pilots, scientists, mountain climbers, social reformers, and more -- it uniquely celebrates the work of lesser-known explorers. Highly recommended!" — Kathryn Aalto, author of Writing Wild: Women Poets, Ramblers, and Mavericks Who Shape How We See the Natural World

"Jayne Zanglein's The Girl Explorers...details the exploits of Pearl Buck, Amelia Earhart, Margaret Mead, Jane Goodall and a dozen other world travelers who challenged gender norms and sought out amazing adventures in remote parts of the world the likes of which their sex had never seen before. They were the first in many cases, but luckily for women everywhere, they were not the last." — East-West News Service

"The book offers fascinating glimpses into lives that are as inspiring as they are unconventional. " — Kirkus Reviews

"Zanglein comprehensively covers a wide range of accomplished women, and does all of them justice. This book is perfect for those interested in women's history and adventure stories." — Library Journal

"Writing in a conversational, often first-person voice, Zanglein profiles 17 intrepid members and chronicles their adventures and missions of inclusion and compassion within vivid historical contexts and via archival photographs...As different as their backgrounds were, Zanglein's "cast of characters" shared a commitment to learning about the world first-hand and championing human rights. A fascinating addition to women's history and the annals of exploration." — Booklist
Sourcebooks, 9781728215242, 416pp.
Publication Date: March 2, 2021
About the Author
Jayne Zanglein is a labor lawyer and law professor, and the author of four law books.