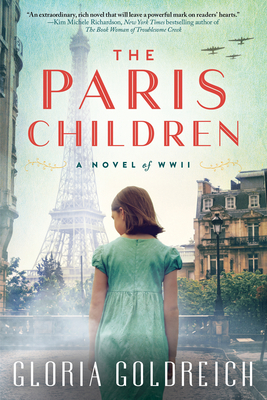 The Paris Children (Paperback)
A Novel of World War 2
Sourcebooks Landmark, 9781728215624, 432pp.
Publication Date: September 1, 2020
* Individual store prices may vary.
Description
Inspired by the true story of one woman's fight to survive during the 20th century's darkest hour--World War II--Gloria Goldreich presents a story of love and resistance against all odds.
Paris, 1935. A dark shadow falls over Europe as Adolf Hitler's regime gains momentum, leaving the city of Paris on the brink of occupation. Young Madeleine Levy--granddaughter of Alfred Dreyfus, a Jewish World War I hero--steps bravely into a new wave of resistance women and becomes the guardian of lost children.
When Madeleine meets a small girl in a tattered coat with the hollow look of one forced to live a nightmare--a young Jewish refugee from Germany--she knows that she cannot stand idly by. Madeleine offers children comfort and strength while working with other members of the resistance to smuggle them out of Paris and into safer territories.
As the Paris Madeleine loves is transformed into a theater of tension and hatred, many are tempted to abandon the cause. Amidst the impending horror and doubt, Madeleine and Claude, a young Jewish Resistance fighter who shares her passion for saving children, are drawn fiercely together. With a questionable future ahead of them, all Madeleine can do is continue fighting and hope that her spirit--and the nation's--won't be broken.
A remarkable, panoramic book of resistance during World War II, The Paris Children is a story of love and the power of hope and courage in the face of tragedy.
1. Madeleine, with her grandfather Alfred Dreyfus as a role model, commits herself to the dangerous role of rescuing Jewish children as a Resistance fighter. What other historic or personal figures might serve as a role model to young people confronting choices that call for daring and dangerous action? Take, for example, Martin Luther King Jr., a heroic health worker, or a relative or friend whose ideals and actions you admire.
2. Given her dual roles, one as a covert Resistance fighter and the other as an agent for the Vichy government, Madeleine must often hide her true feelings. How does she accomplish this, and how might you act in similar circumstances?
3. Madeleine must balance her love for Claude against the importance of the life-saving work that engages them both. How might you confront a similar struggle in your own life? Should the needs of a larger community be prioritized rather than the yearning of an individual?
4. When Madeleine's credentials are questioned, she flirts with her interrogator. This is counter to her usual modesty, but it is a ploy that she uses to protect the children she is intent on saving. Do you think that end justifies the means? Can you think of other situations that parallel her dilemma?
5. Madeleine's physician father insists that he must treat anyone who needs his help, ally or enemy. Would you agree with his attitude?
6. Although Madeleine's primary goal is to rescue endangered Jewish children, she also becomes a demolition expert. How does she confront each role? Do they require similar skills, similar courage?
7. The Resistance demands secrecy for the protection of its members. Do you think more openness would have been helpful to their operations?
8. Resistance victories met with severe reprisals from the Nazi occupiers. How did the reprisals affect the surviving freedom fighters? Do you think that the greater good outweighs the suffering of the few?
9. Madeleine's grandmother assures her that "this life is worth its grief," an assurance that Madeleine accepts and embraces. How do you respond to that concept?