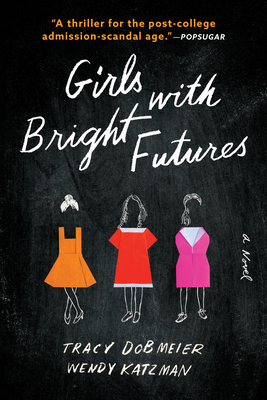 Girls with Bright Futures
A Novel
Paperback

* Individual store prices may vary.
Description
"For those who couldn't stop reading about Lori Loughlin and Operation Varsity Blues, this suspenseful thriller about the lines moms are willing to cross to get their kids into college is for you."—Refinery29
"Book Club Winner."—Real Simple, Book Club Selection
"A thriller for the post-college-admission-scandal age."—PopSugar
Named a Most Anticipated Book of 2021 by Parade Magazine, Newsweek, POPSUGAR, Refinery29, Brit + Co, and more!
Three women, three daughters, and a promise that they'll each get what they deserve...
College admissions season at Seattle's Elliott Bay Academy is marked by glowing acceptances from top-tier institutions and students as impressive as their parents are ambitious. But when Stanford alerts the school it's allotting only one spot to EBA for their incoming class, three mothers discover the competition is more cutthroat than they could have imagined.
Tech giant Alicia turns to her fortune and status to fight for her reluctant daughter's place at the top. Kelly, a Stanford alum, leverages her PTA influence and insider knowledge to bulldoze the path for her high-strung daughter. And Maren makes three: single, broke, and ill-equipped to battle the elite school community aligning to bring her superstar down.
That's when, days before applications are due, one of the girls suffers a near-fatal accident, one that doesn't appear to be an accident at all.
As the community spirals out of control, three women will have to decide what lines they're willing to cross to secure their daughters' futures…and keep buried the secrets that threaten to destroy far more than just college dreams.
The perfect book club read with a suspense bite, Girls with Bright Futures combines the college admissions scandal with the edge of Big Little Lies, the snark of Class Mom, and the schadenfreude of watching the elite implode.
Praise For Girls with Bright Futures: A Novel…
"A scintillating deep dive into a college admissions scandal and the terrifying lengths parents will go to in securing their children's futures. Propulsive and shocking." — Robyn Harding, international bestselling author of The Party
"Girls With Bright Futures is a dark and wild trip into the cutthroat world of college admissions, placing vicious, out-of-control parents under a harsh and unforgiving light. Dobmeier and Katzman have cranked up the volume on Varsity Blues-type scandals in this gripping novel packed full of escalating surprises." — Amy Poeppel, author of Small Admissions and Musical Chairs
"Wickedly paced and devilishly clever, Girls with Bright Futures is a serious case of moms behaving badly, perfectly showcasing the dark side of ambition in the cut-throat world of elite college admissions. For those who enjoy mischief and mayhem in an urban, ultra-competitive private school setting, this smart and riveting debut is a wildly entertaining read." — Christina McDonald, USA Today bestselling author of Behind Every Lie and The Night Olivia Fell
"GIRLS WITH BRIGHT FUTURES is a scandalous and timely story of three women who will do anything to secure their daughters' future in a winner-take-all world. An engrossing mix of satire and thriller." — Andrea Dunlop, author of She Regrets Nothing
"The road to college admissions is paved with good intentions—and many bad ones too. GIRLS WITH BRIGHT FUTURES is an audacious, chilling, thrilling look at what happens at an elite private school when the two collide head-on, the casualties multiply, and secrets pop out like beach blankets on a quad." — Meg Mitchell Moore, author of The Admissions and Two Truths and a Lie
"Suspenseful and oh-so-timely, GIRLS WITH BRIGHT FUTURES is a cautionary tale of parental anxiety run amok in the high-stakes world of elite college admissions. I loved this wild ride of a novel, brimming with truth, mischief and consequences. It's a smart, provocative debut that will keep you turning pages until the riveting end." — Tara Conklin, New York Times bestselling author of The Last Romantics and The House Girl
"A shrewd comedy of manners... The exhilarating narrative speeds along to a satisfying conclusion. This is an unputdownable morality tale for our times." — Publishers Weekly, Starred Review
"A thriller for the post-college-admission-scandal age." — PopSugar
"Money, influence, social status… Seattle's Elliott Bay Academy mothers will do anything they can do create the path they want for their daughters. College dreams, and maybe even lives, will be destroyed by the end of college admission season." — Frolic
"Elegantly plotted and quick-paced...Girls with Bright Futures expertly contends with the nuances of meritocracy through its sharp comedic voice, creating a deeply poignant and pleasurable reading experience." — The Columbia Review
"Dobmeier and Katzman's timely debut piles twist upon twist and illuminates the many ways young people serve as stand-ins for their parents' dreams of success (and their fear of failure). Fans of domestic suspense about rich people behaving badly—and readers who couldn't look away from the Varsity Blues college-admissions scandal—will devour this one." — Booklist
"Toggling among the three mother-daughter pairs, Dobmeier and Katzman deftly capture the madness of college admissions season... Operation Varsity Blues lurks behind this bracingly vicious portrait of entitlement." — Kirkus Reviews
"An unputdownable and wildly entertaining debut full of shocking twists and turn... Fans of mother/daughter relationship novels won't want to miss this fast-paced take on mama bears and the cubs they will do anything to protect." — Library Journal, Starred Review
"For those who couldn't stop reading about Lori Loughlin and Operation Varsity Blues," — Refinery29
"A sharp, irresistibly fun fictional look at college admissions.
" —
Real Simple, Book Club Winner
"An unputdownable, super fun read." — Cultured Vultures
Sourcebooks Landmark, 9781728216461, 400pp.
Publication Date: February 2, 2021
About the Author
After supporting each other through two decades of motherhood, Tracy Dobmeier and Wendy Katzman thought: "Let's write a book and really test the friendship." Several years later their friendship is not only still intact, but they would even go so far as to grade it an A+. With such a perfect GPA, maybe they should apply to Stanford? Just kidding! They would never leave Seattle where they live (not together, though it often feels that way) with their husbands, pets, and last remaining school-age kiddo. You can find them at dobmeierkatzman.com and @katzndobs on Instagram. Or in Tracy's kitchen.