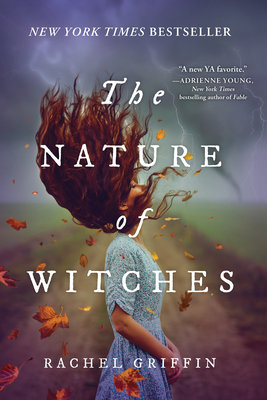 The Nature of Witches
Hardcover

* Individual store prices may vary.
Other Editions of This Title:
Digital Audiobook (9/28/2021)
Paperback (5/3/2022)
MP3 CD (11/20/2021)
Description
An Instant New York Times Bestseller
In a world where witches control the climate and are losing control, only one witch can save earth from destruction. But as her power grows, it hurts those closest to her, and when she falls in love with her training partner she's forced to choose between her power, her love, and saving the earth.
For centuries, witches have maintained the climate, but now their control is faltering as the atmosphere becomes more erratic; the storms, more destructive. All hope lies with Clara, a once-in-a-generation Everwitch whose magic is tied to every season.
In Autumn, Clara wants nothing to do with her power. It's wild and volatile, and the price of her magic—losing the ones she loves—is too high, despite the need to control the increasingly dangerous weather.
In Winter, the world is on the precipice of disaster. Fires burn, storms rage, and Clara accepts that she's the only one who can make a difference.
In Spring, she falls for Sang, the witch training her. As her magic grows, so do her feelings, until she's terrified Sang will be the next one she loses.
In Summer, Clara must choose between her power and her happiness, her duty and the people she loves...before she loses Sang, her magic, and thrusts the world into chaos.
"Perfect for fans of Shea Ernshaw and Taylor Swift's Folklore."—Rosiee Thor, author of Tarnished Are the Stars
"A bright, fresh read from a glowing new voice, THE NATURE OF WITCHES is both timely and stirring. Griffin's emotional writing that cuts to the heart will make her a new YA favorite."—Adrienne Young, New York Times bestselling author of Fable
"The forces of nature and magic blend perfectly in this masterfully told story... I couldn't love this book more."—Shea Ernshaw, NYT bestselling author of The Wicked Deep and Winterwood
Praise For The Nature of Witches…
"The Nature of Witches is unlike anything I've read before. With its wholly original take on witches, thought-provoking commentary on climate change, and a swoony romance I would die for, Griffin has crafted a magnificent debut that will have readers on the edge of their seats. To put it simply—I'm obsessed with this book" — Adalyn Grace, NYT bestselling author of All the Stars and Teeth

"The Nature of Witches is a timely, thoughtful tale of the responsibilities we have to our planet and to one another. Griffin's well-developed world building and complex main character make for a read that will resonate deeply." — Christine Lynn Herman, author of The Devouring Gray duology

"Readers will happily dive into Clara's magical realm." — The Bulletin of the Center for Children's Books

"I could have stayed lost in the pages and magic of The Nature of Witches forever. Griffin's lush prose and evocative imagery adorns and compliments the thoughtfully designed world, and the well-drawn characters triumphantly carry the story from beginning to end. A stunning and timely debut" — Isabel Ibañez, author of Woven in Moonlight and Written in Starlight

"Seasonal magic abounds in this addictively thought-provoking tale of love, loss and self-identity" — Dawn Kurtagich, award-winning author of The Dead House

"In her debut, Griffin ties the story of a witch learning her strength to the raw power of nature and places it in a world decimated by climate change. It's new, different, and well worth a read. " — Booklist

"A fascinating blend of climate fiction, fantasy, boarding school novel and romance... Exciting and immersive." — BookPage

""Vibrant and magical, THE NATURE OF WITCHES is an achingly beautiful exploration of love and hope perfect for fans of Shea Ernshaw and Taylor Swift's Folklore. This book is a ray of sunshine." — Rosiee Thor, author of Tarnished Are the Stars

"Fresh and original... This standalone novel ties fantastical elements, LGBTQIA themes, and climate change together into one neat package that will leave readers ­satisfied" — School Library Journal

"A refreshing take on witches...imaginative, romantic and inspiring." — Shelf Awareness

"The Nature of Witches is a love letter to the earth. This lush, atmospheric book charmed me with its magic system, captured my heart with its swoony romance, and stole my breath with its gorgeous words. I want to wallpaper my home with Rachel Griffin's sentences" — Rachel Lynn Solomon, author of Today Tonight Tomorrow

"Griffin's emotional forthrightness makes this narrative accessible to younger YA readers, who will relish the sweet, supportive relationships tenderly interlacing with nature's rhythms." — Publishers Weekly

"The forces of nature and magic blend perfectly in this masterfully told story. I couldn't love this book more." — Shea Ernshaw, New York TImes bestselling author of THE WICKED DEEP and WINTERWOOD
Sourcebooks Fire, 9781728229423, 384pp.
Publication Date: June 1, 2021
About the Author
Rachel Griffin is the New York Times bestselling author of The Nature of Witches and the upcoming Wild is the Witch. When she isn't writing, you can find her wandering the Pacific Northwest, reading by the fire, or drinking copious amounts of coffee and tea. She lives in the Seattle area with her husband, dog, and growing collection of houseplants. Visit her online at rachelgriffinbooks.com or say hi on Instagram @TimesNewRachel.
1. What season witch would you be and why?
2. Clara's school isolated her to protect the other students, but there was very little attention paid to the effect separating her would have on Clara's well-being. How much did her isolation affect her decisions? Was the school wrong to separate her from her peers?
3. Mr. Burrows creates extreme tests for Clara that are risky and dangerous, but they also force Clara to access more magic than she ever has, making her stronger. Are his methods justified? Why or why not?
4. Mr. Hart had great affection for Clara. Mr. Burrows was callous, and yet he was able to push Clara's abilities to new heights. Were your most effective teachers the ones who treated you most kindly or the ones who pushed you the hardest? Are the two mutually exclusive?
5. When we first meet Clara, she hates that she changes with the seasons and craves consistency. Part of her journey is embracing change and learning to see it as a beautiful thing. In what ways has change played a powerful role in your life?
6. One of Clara's deepest fears is that she's too much for other people: too emotional, too inconsistent, too sensitive, too in her head. When she reads Mr. Hart's logbook and learns that he believed her magic flowed on a current of feeling, it enables her to change her perception of herself. Why do you think Mr. Hart believed Clara's depth of feeling is the source of her power?
7. Do you think Clara and Paige could have been happy together if Clara had learned to control her magic sooner?
8. Why do you think Sang is able to see Clara so clearly?
9. Climate change and environmentalism are major themes in the book. While it acknowledges the hard work the lies ahead, The Nature of Witches ultimately ends on a hopeful note. Do you feel hopeful about the future of our planet? Why or why not?