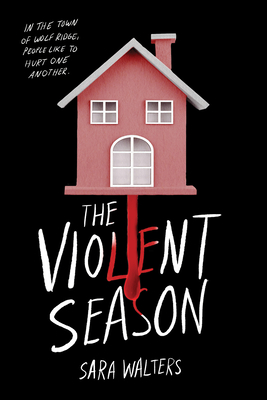 The Violent Season
Paperback

* Individual store prices may vary.
Other Editions of This Title:
Digital Audiobook (10/11/2021)
Compact Disc (11/16/2021)
MP3 CD (11/16/2021)
Description
The unputdownable debut thriller you will never forget.
There is something terribly wrong in Wolf Ridge. Every November, every teen is overwhelmed with a hunger for violence…at least, that's the urban legend.
After Wyatt Green's mother was brutally murdered last Fall, she's convinced that the November sickness plaguing Wolf Ridge isn't just a town rumor that everyone ignores…it's a palpable force infecting her neighbors. Wyatt is going to prove it, and find her mother's murderer in the process. She digs up every past brutal act she can find from Wolf Ridge's past—from car wrecks, suicides, and unnamed victims turning up in rivers—and even reaches out to an out-of-state journalist that seems to believe her. But all of her digging leads to nowhere. Everyone in Wolf Ridge accepts that the November sickness is real, and absolutely no one will talk about it.
As Wyatt's best friend Cash turns on her, and her friend is almost killed in a tragic accident, Wyatt panics—how can she keep her friends safe, and find her mother's murderer, when no one believes her?
As the evidence stars to disappear, Wyatt wonders: is she just imagining everything? Is the sickness real, or are the people of Wolf Ridge just naturally prone to doing bad things?
Can Wyatt and her friends come out of the Violent Season unscathed, or is one of them going to be the next victim?
"Holy sh....... Can I just say that? Can that be the review? Technically yes, but I **NEED** to say that this is without a doubt and by far one of the best books I have read this year!"—Brittney Green, Netgalley Reviewer
"A freaking INCREDIBLE debut for Sara Walters. I have not felt this pull to a book in a hot minute. PREORDER IT, ADD IT TO YOUR TBR, AND WAIT IMPATIENTLY FOR OCTOBER BECAUSE THIS BOOK WAS ?????"—Tiffany Clark, Netgalley Reviewer
"Be prepared to be captivated after the first sentence."—Rachel Milburn, Netgalley Reviewer
Praise For The Violent Season…
"Exactly the type of tale readers will want to stay up late flipping through on All Hallows' Eve....sure to leave readers unsettled, unsatisfied, and demystified...read if you dare." — The Tempest
"Claustrophobic and intriguing... a novel that will keep you hooked all the way" — The Nerd Daily
"As poignant as it is creepy, and filled with memorable twists and reveals, this book asks what we do when others won't listen to our stories of survival." — Booklist
"…a complicated blend of mystery and angst... " — School Library Journal
Sourcebooks Fire, 9781728234106, 288pp.
Publication Date: October 5, 2021
About the Author
SARA WALTERS works as an advocate for victims and survivors of domestic and sexual violence in central Pennsylvania. Previously, she worked as a reproductive rights advocate and a college instructor. She earned her MFA in Creative Writing at the University of South Florida, and studied children's and young adult literature while earning her doctorate in education at the University of Tennessee. She believes in the power of storytelling as a voice for survivors, and aims to give space to the stories too often silenced. She is the author of The Violent Season and Missing Dead Girls.