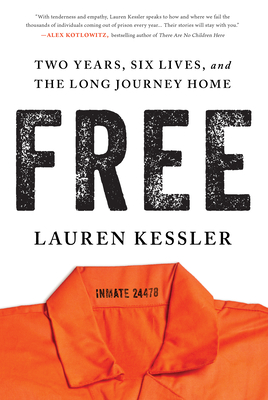 Free
Two Years, Six Lives, and the Long Journey Home
Hardcover

* Individual store prices may vary.
Other Editions of This Title:
Library Binding, Large Print (6/1/2022)
MP3 CD (6/28/2022)
Description
95 percent of the millions of American men and women who go to prison eventually get out. What happens to them?
There's Arnoldo, who came of age inside a maximum security penitentiary, now free after nineteen years. Trevor and Catherine, who spent half of their young lives behind bars for terrible crimes committed when they were kids. Dave, inside the walls for 34 years, now about to reenter an unrecognizable world. Vicki, a five-time loser who had cycled in and out of prison for more than a third of her life. They are simultaneously joyful and overwhelmed at the prospect of freedom. Anxious, confused, sometimes terrified, and often ill-prepared to face the challenges of the free world, all are intent on reclaiming and remaking their lives.
What is the road they must travel from caged to free? How do they navigate their way home?
A gripping and empathetic work of immersion reportage, FREE reveals what awaits them and the hundreds of thousands of others who are released from prison every year: the first rush of freedom followed quickly by institutionalized obstacles and logistical roadblocks, grinding bureaucracies, lack of resources, societal stigmas and damning self-perceptions, the sometimes overwhelming psychological challenges. Veteran reporter Lauren Kessler, both clear-eyed and compassionate, follows six people whose diverse stories paint an intimate portrait of struggle, persistence, and resilience.
The truth—the many truths—about life after lockup is more interesting, more nuanced, and both more troubling and more deeply triumphant than we know.
Praise For Free: Two Years, Six Lives, and the Long Journey Home…
"It is nothing short of phenomenal to read these stories of people who move from prison to freedom. Lauren Kessler's immersion journalism gives us a place from which to witness the world we've made, and how people who make mistakes must learn to navigate through it against impossible odds." — Lidia Yuknavitch, bestselling author of The Book of Joan and The Chronology of Water
"Free is an important contribution to the body of incarceration literature. It is also a captivating read: each chapter and each story makes you eager to read the next." — Laura Bates, author of Shakespeare Saved My Life: Ten Years in Solitary with the Bard
"With tenderness and empathy, Lauren Kessler speaks to how and where we fail the thousands of individuals coming out of prison every year. Kessler asks us to get to know these six men and women and to come to understand and celebrate their remarkable journeys. I love the writing in this important and timely book. These moving stories will stay with you." — Alex Kotlowitz, bestselling author of There Are No Children Here
"If mass incarceration is one of the great moral crises of our time, then how we treat those who are recently freed is just as much of a travesty. The stories Lauren Kessler shares in Free show how prison changes people and fails to set them up for success on the outside. Lauren integrates data with compelling vignettes to illustrate a better way forward for those who will be released from prison." — Eric Garcia, author of We're Not Broken: Changing the Autism Conversation
"In this empathetic and visceral account, journalist Kessler documents the achievements and setbacks of six formerly incarcerated people…. This powerful argument in favor of a better support system for those who have served their time rings true." — Publishers Weekly
"Piercing, poignant... Free is a sobering, necessary mirror. What does this system say about us? Where will we go from here, and how--and most urgently, when?" — Shelf Awareness: Maximum Shelf
Sourcebooks, 9781728236513, 320pp.
Publication Date: April 19, 2022
About the Author
Lauren Kessler is the award-winning author of ten works of nonfiction, all of which combine lively narrative with deep research and in-the-trenches immersion to explore hidden worlds. The creator of two graduate programs in creative nonfiction, she founded a writers' group for lifers at a maximum security prison. She lives in western Oregon.