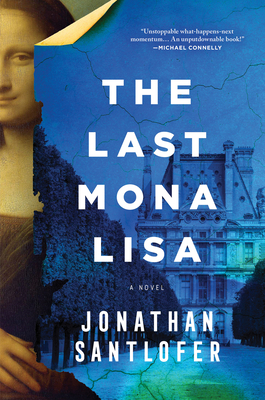 The Last Mona Lisa
A Novel
Hardcover

* Individual store prices may vary.
Other Editions of This Title:
Paperback (8/17/2021)
MP3 CD (8/17/2021)
Library Binding, Large Print (12/22/2021)
Compact Disc (8/17/2021)
Description
ONE OF PEOPLE MAGAZINE'S BEST BOOKS OF SUMMER!
"Unstoppable what-happens-next momentum."—Michael Connelly, #1 New York Times bestselling author
"A deliciously tense read."—Ruth Ware, #1 New York Times bestselling author
From award-winning crime writer and celebrated artist Jonathan Santlofer comes an enthralling tale about the 1911 theft of the Mona Lisa from the Louvre, the forgeries that appeared in its wake, and the present-day underbelly of the art world.
August, 1911: The Mona Lisa is stolen by Vincent Peruggia. Exactly what happens in the two years before its recovery is a mystery. Many replicas of the Mona Lisa exist, and more than one historian has wondered if the painting now returned to the Louvre is a fake, switched in 1911.
Present day: Art professor Luke Perrone digs for the truth behind his most famous ancestor: Peruggia. His search attracts an Interpol detective with something to prove and an unfamiliar but curiously helpful woman. Soon, Luke tumbles deep into the world of art and forgery, a land of obsession and danger.
The Last Mona Lisa is a suspenseful and seductive tale, perfect for fans of the Netflix documentaries This Is A Robbery and Made You Look and readers obsessed with the world of art heists and forgeries.
Praise For The Last Mona Lisa: A Novel…
"Oh, what a web Jonathan Santlofer weaves in this un-put-downable book! THE LAST MONA LISA brings together past and present, seasons it with intriguing characters, and brushes it with plot twists that you don't see coming to create an unstoppable what-happens-next momentum. Santlofer has outdone himself this time." — Michael Connelly, #1 New York Times bestselling author of the Harry Bosch and Mickey Haller series

"A deliciously tense read that mixes a present day hunt for the truth with a real-life historical heist to page-turning effect!" — Ruth Ware, #1 New York Times best selling author of One By One

"It's hard to imagine another writer who could pull off a feat like The Last Mona Lisa, with its combination of thrills, history, and insider knowledge of the art world. A singular achievement by a terrific writer. Really stunning." — Laura Lippman, New York TImes bestselling author

"Astonishingly, Jonathan Santlofer is a brilliant writer of fiction and nonfiction—and a superb visual artist as well. All his skills come together in The Last Mona Lisa, and the result is wholly satisfying." — Lawrence Block, bestselling author of more than 50 novels, including Eight Million Ways to Die and A Walk Among the Tombstones

"From its seductive first pages, The Last Mona Lisa carries us along on an utterly irresistible time-jumping, continent-leaping tale of intrigue and family secrets, obsession and the ineffable power of art itself. I could not put it down." — Megan Abbott, bestselling and award-winning author of Give Me Your Hand and The Turnout

"With romance, mystery, and near-death experiences, this book checks all the boxes for a scintillating summer read." —

"A fascinating art-mystery novel... filled with art history information, particularly about Leonardo, and set in Florence." — Joyce Carol Oates in Forward

"This is a terrific read - compelling, intelligent, fascinating and deeply satisfying. It was a book I did not want to end." — Peter James, #1 bestselling crime thriller author

"Fabulous—instantly immersive, intriguing and suspenseful, and expert and authentic too ... only a writer who is also an artist—or an artist who is also a writer—could have pulled it off. This feels like the thriller Santlofer was born to write." — Lee Child, #1 New York Times bestselling author of the Jack Reacher series

"A riveting novel, weaving the real-life 1911 theft of Leonardo's masterpiece into a nail-biting contemporary drama where billionaire collectors, art historians, book collectors and Interpol engage in so many double and triple crosses you're left wondering until the last page whom to trust and whom to fear. The Last Mona Lisa is like a master class in how to create a deep understanding of art history while making a seamless thriller." — Sara Paretsky, New York Times bestselling author of the V.I, Warshawski series

"THE LAST MONA LISA is a pacy, seductive international thriller of the first order. With its seamless blend of action, intriguing maze of family secrets, and the gripping, emotional journal entries of a long-dead art thief, this is a transporting novel, made all the more captivating because of the true story at its heart. Don't miss it!" — Lisa Unger, New York Times bestselling author of CONFESSIONS ON THE 7:45

"A sleek and cunning book." — The Brooklyn Rail

"Suspenseful, lush with Florence's glorious art and architecture, sexy, and emotionally complex, Santlofer's multifaceted tale of how a passion for art can turn criminal contrasts the genuine with the fake and asks if beauty and love can truly be transcendent." — Booklist, STARRED Review

"Details of Florence, Paris, and New York City enhance the twisty plot, as does the insider view of the underground world of art collectors driven by deception, ego, and greed." — Publishers Weekly, STARRED Review

"Santlofer crafts a layered and absorbing art mystery, complete with exciting action scenes and beautiful descriptions of the city of Florence and its art as well as Paris and Nice....a must for fans of Dan Brown." — Kirkus Reviews
Sourcebooks Landmark, 9781728243986, 400pp.
Publication Date: August 17, 2021