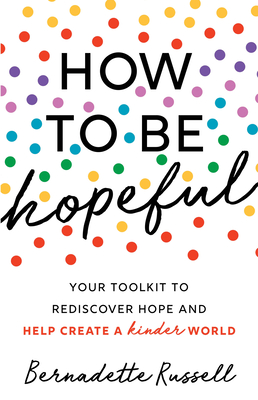 How to Be Hopeful
An Inspirational Guide to Ignite a Life Full of Hope, Happiness, and Compassion for Yourself and Our Future
Paperback

* Individual store prices may vary.
Description
An inspirational mental health book to help you find hope and build it into a lifelong habit.
Filled with practical exercises, questions to consider, revealing research, timeless philosophy, and tales of triumph over adversity, How to Be Hopeful is an uplifting, motivational, and essential guide to living and acting with renewed hope for self-compassion and for a more compassionate world. It shows us the places we can look for hope—in nature, art, the kindness of strangers, our own actions—and ways to keep it alive through moments of adversity.
A wonderful gift for all occasions!
Graduation
Birthday
Divorce
Get well or feel better after surgery
Cheer up
Thinking of you
Author, performer, and activist, Bernadette Russell, has made it her life's mission to teach the practice of hope, allowing us to focus on the positives and the possibilities—no matter what challenges life throws at us.
Sourcebooks, 9781728245591, 240pp.
Publication Date: April 6, 2021
About the Author
BERNADETTE RUSSELL is a writer, performer and storyteller living in London. She is a columnist for Balance magazine, writing a monthly musing on the theme of kindness.