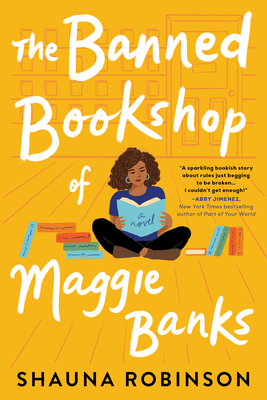 The Banned Bookshop of Maggie Banks
Paperback

* Individual store prices may vary.
Other Editions of This Title:
Digital Audiobook (10/31/2022)
Library Binding, Large Print (3/8/2023)
November 2022 Indie Next List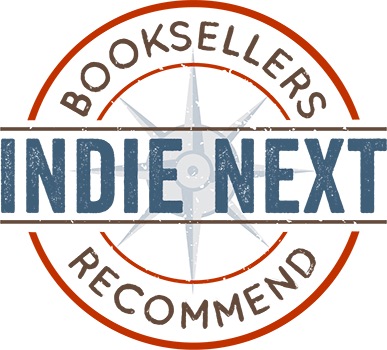 "I love a book about a bookstore! This was cute and funny, but also showed that we're never too old to figure out what we want to do with our lives — or to not know what the heck we're doing at any age. Loved it!"
— Kristin Prout, Gathering Volumes, Perrysburg, OH
View the List
Description
"A sparkling bookish story about rules just begging to be broken." — Abby Jimenez, New York Times bestselling author of Part of Your World and The Friend Zone
I, Maggie Banks, solemnly swear to uphold the rules of Cobblestone Books. If only, I, Maggie Banks, believed in following the rules.
When Maggie Banks arrives in Bell River to run her best friend's struggling bookstore, she expects to sell bestsellers to her small-town clientele. But running a bookstore in a town with a famously bookish history isn't easy. Bell River's literary society insists on keeping the bookstore stuck in the past, and Maggie is banned from selling anything written this century. So, when a series of mishaps suddenly tip the bookstore toward ruin, Maggie will have to get creative to keep the shop afloat.
And in Maggie's world, book rules are made to be broken.
To help save the store, Maggie starts an underground book club, running a series of events celebrating the books readers actually love. But keeping the club quiet, selling forbidden books, and dodging the literary society is nearly impossible. Especially when Maggie unearths a town secret that could upend everything. 
Maggie will have to decide what's more important: the books that formed a small town's history, or the stories poised to change it all.
Praise For The Banned Bookshop of Maggie Banks…
As recommended by Good Housekeeping, Country Living, and more!
"Consider me an official member of the Maggie army! I found myself rooting for every character in this warm, welcoming tale of a woman coming into her own. If you've ever found comfort in a book—or a bookstore—then you'll enjoy watching Maggie discover how powerful the right story in the right hands can be." — Lucy Gilmore, author of The Lonely Hearts Book Club
"Delightful and deeply felt, The Banned Bookshop of Maggie Banks is one woman's instantly compelling search for herself woven into a celebration of how stories enliven and inspire community. It's the perfect book for book lovers." — Emily Wibberley & Austin Siegemund-Broka, authors of The Roughest Draft
"A sparkling bookish story about rules just begging to be broken…I couldn't get enough!" — Abby Jimenez, New York Times bestselling author of Part of Your World and The Friend Zone
"Shauna writes for the girls without dream jobs, the pandemic babies who moved back in with their parents and are just trying to figure it out, and the extroverts who find purpose in bringing people together. This novel is a book lover's dream, with subtle social commentary to boot." — Iman Hariri-Kia, author of A Hundred Other Girls
"The Banned Bookshop of Maggie Banks is a charming romcom about finding your own path and never being scared to break the rules. It's also an uplifting celebration of the power of books to change people's lives. Visit your favorite bookstore, curl up in a comfy chair and savor every word!" — Freya Sampson, author of The Last Chance Library
"This richly-plotted romance from Robinson (Must Love Books) is full of charming characters and will appeal to fans of Jenny Colgan, Abbi Waxman, and Katarina Bivald." — Library Journal
"Charming, uplifting, and funny." — Booklist
Sourcebooks Landmark, 9781728246444, 336pp.
Publication Date: November 1, 2022
About the Author
Shauna Robinson's love of books led her to try a career in publishing before deciding she'd rather write books instead. Originally from San Diego, she now lives in Virginia with her husband and their sleepy greyhound. Shauna is an introvert at heart—she spends most of her time reading, baking, and figuring out the politest way to avoid social interaction. Must Love Books is her debut novel.
1. Maggie is passionate about things that have nothing to do with her work. What do you feel passionate about? Is it related to your career?
2. Outline the similarities and differences between Maggie and her best friend, Rochelle. Why do you think they get along so well?
3. Design your own silly bookish event. What book would you choose, and why?
4. Discuss all the ways Ralph's strict rules are so detrimental.
5. Maggie finds herself stuck between a rock and a hard place when she discovers Edward Bell's dark secret. Put yourself in her shoes: Would you reveal it, even though it could mean ruining Bell River?
6. Describe Malcolm. What motivates him?
7. Maggie and many people in her book club admit to not loving the classics, but they do love genre fiction. What's your favorite book? Do you consider it a classic?
8. Explain Vernon's involvement with the town's legacy in the past and moving forward.
9. Think about the pressure Maggie feels to follow the typical life plan (graduate from college, land a dream job, get married, etc.). Have you ever felt pressure to fulfill others' expectations?
10. What do you think is the most important lesson Maggie learns by the end of the book?