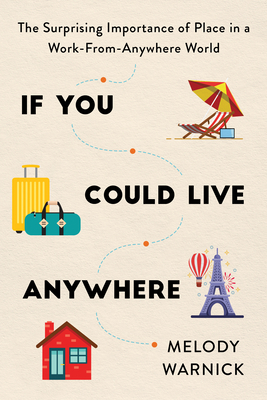 If You Could Live Anywhere
The Surprising Importance of Place in a Work-from-Anywhere World
Paperback

* Individual store prices may vary.
Other Editions of This Title:
Digital Audiobook (7/25/2022)
Compact Disc (7/26/2022)
MP3 CD (7/26/2022)
Description
Even when your job can be done from anywhere, the place you call home still matters—a lot.
By the old rules of work, your dream career determines where you live. If you want to make movies, move to Los Angeles. If you want to work in publishing, you must be in New York. And if you're launching a start-up, you'll only succeed in Silicon Valley.
But with the meteoric rise of remote and freelance work, more people than ever are becoming location independent. Even doctors, teachers, and other people in more traditional occupations have to make tough choices about where they settle, because living in the right place can still make all the difference for your success and happiness.
So if work won't dictate where you live, how will you ever decide?
If You Could Live Anywhere answers that question. Melody Warnick unpacks the big-picture concerns that we often miss when we're writing pros-and-cons lists about potential destinations. Because the secret to being happy isn't moving, it's aligning your location with your values. You'll learn how to craft a personal location strategy that will make the most of your money, your community, and your life, with success stories from people who flexed their location independence to find homes and work they love.
The future of work is clear: it can happen wherever you are. So where do you really want to be?
Praise For If You Could Live Anywhere: The Surprising Importance of Place in a Work-from-Anywhere World…
"I just loved this book. Not only is it a practical guide on relocating for people who can work anywhere, Warnick's research and insights are a primer on what makes an appealing community, and more importantly, how to to be a happy, contributing citizen of the place you call home." — Heather Lende, Alaska State Writer Laureate and New York Times bestselling author of If You Lived Here, I'd Know Your Name
"If you can live anywhere, where should you live? It can be an overwhelming question, but in this smart and well-researched guide, Melody shares practical strategies for finding an answer—and shows how choosing a place to live can be a vote for the kind of life you want. Highly recommended for anyone who works from home and wonders where home should be." — Laura Vanderkam, author of The New Corner Office
"If You Could Live Anywhere is a thorough, thoughtful, and inspiring guide for using location to unlock your best life. Whether you're seeking personal fulfillment, professional growth, financial freedom, or all of the above—Melody Warnick shows us the many ways we can choose a spot on this globe that suits our goals and needs best. Her mix of real-world success stories and practical advice is sure to give any Anywhereist the confidence to reevaluate their place. Heck, if this book had been around 10 years ago, it definitely wouldn't have taken me a full decade to leverage my own work-from-anywhere freedom!" — John Petersik, New York Times bestselling author of Young House Love
"In this illuminating, surprising, and inspiring handbook, Melody Warnick walks you through the important issues you know you must consider before pinpointing a new place to live, as well as highlighting ones you might have inadvertently glossed over. Even if you have no intention of moving in the next few years, you'll benefit from Melody's friendly prompts to refine your personal values and cultivate happiness no matter where you find yourself." — Anne Bogel, author of Don't Overthink It
"With remote work opening up the world to us, Melody Warnick's data-driven approach guides us to the best place to call home. If You Could Live Anywhere is like a match-making service for people and places." — Ali Wenzke, author of The Art of Happy Moving
"This book is an upbeat, energetic and smart guide that anyone committed to optimizing her work-life-home balance should keep handy. Chock full of research and relatable anecdotes, I found it easy to read and super helpful, even as a framework for understanding the challenges and opportunities I have faced post many moves. I will definitely be gifting this book to many friends, who, like me are approaching their empty nest years with intentionality and a renewed sense of adventure. Melody's strategic Anywhereist approaches are both freeing and pragmatic." — Christine Kraft, author of Unpacked
""In the midst of the pandemic work-from home trend, this aptly timed book offers tips on how to capitalize on the opportunity to work from anywhere…. easy to read, intriguing, and informative." - Booklist" — Booklist
Sourcebooks, 9781728246901, 336pp.
Publication Date: July 26, 2022
About the Author
Melody Warnick is the author of This Is Where You Belong: Finding Home Wherever You Are. Her work has appeared in The New York Times, Reader's Digest, Fast Company, The Guardian, Slate, Quartz, CityLab, Woman's Day, Good Housekeeping, Redbook, O: The Oprah Magazine, Medium, Livability, and many others.