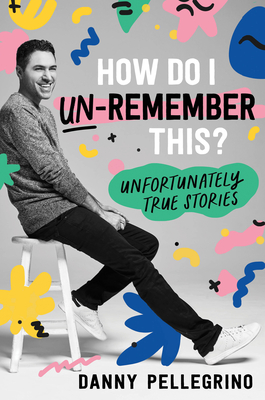 How Do I Un-Remember This?
Unfortunately True Stories
Hardcover

* Individual store prices may vary.
Other Editions of This Title:
Digital Audiobook (3/7/2022)
Paperback (5/30/2023)
Description
Instant New York Times Bestseller
From the host of Everything Iconic with Danny Pellegrino comes a collection of stories you'll be glad didn't happen to you.
Think of the most embarrassing thing that's ever happened to you. Was it the time your high school cheer squad taunted you in front of the entire town? Was it the time your best friend's mom caught you streaking in all your naked, self-conscious glory? What about the time you accidentally threw a tooth at your dry cleaner or took an urn into Kohl's for some holiday shopping?
For Danny Pellegrino, the answer is all of the above.
Growing up as a closeted gay kid in small-town Ohio wasn't easy, and Danny has the stories to prove it. But coming of age in the 90s still meant something magical to Danny. The music, film, and celebrity moments of his youth were truly iconic, and his love for all things pop culture connected him to a world larger than the one he knew in the suburban Midwest. And through all the pains of growing up, Danny could always look to that world for hope—whether that meant bingeing The Nanny until he had the confidence of Fran Fine, belting out Brandy songs until his heartaches were healed, or watching semi-clothed Ryan Phillippe scenes until his cheeks burned from blushing.
With refreshing honesty and jaw-dropping absurdity, Danny invites readers to experience his most formative moments in life—from his hometown in Ohio to his hit podcast and career in entertainment today. How Do I Un-Remember This? is an unfiltered and all-too-relatable glimpse into Danny's life and the heartfelt and hilarious moments that shaped it. Although he wouldn't change them for the world, these stories are—unfortunately—true.
Praise For How Do I Un-Remember This?: Unfortunately True Stories…
Instant New York Times Bestseller
"Danny Pellegrino is a delight, and so are his stories!" —New York Times bestselling author Andy Cohen
"Danny Pellegrino is a national treasure. Reading his book is like spending time with the BFF of your dreams. His knowledge of pop culture is unrivaled and his humor is unmatched. I'm both happy for him and seething with jealousy." —Casey Wilson, New York Times bestselling author of The Wreckage of My Presence
"Readers will adore this witty account of navigating life—and finding the joy in marching to the beat of one's own drum." —Publishers Weekly
"Even if readers have never botched a college-level American Sign Language final with the lyrics to a Michael Bolton song, they will find themselves nodding along to Pellegrino's charming storytelling style and cringing on his behalf." —Booklist
"It is impossible not to fall in love with Danny in this heartfelt and deeply funny book. I laughed so hard I scared my kids. Randomly open to any page and you'll find a gem." —Kate Baer, #1 New York Times bestselling author of What Kind of Woman
"I first met and loved Danny through his podcast, but I have come to understand him on a deeper level through the pages of his vulnerable, hilarious, and captivating book. Each essay is an adventure and brings a warm sense of nostalgia to the audience with witty and timeless pop cultural references. So, to use a pop culture reference from the '90s, 'I don't care who you are, where you're from, what you did,' you will see some version of yourself in his words, journey, and truth. Not only will you laugh—and possibly cry—but you will also end up learning more about Danny and, inevitably, yourself." —Rachel Lindsay, media personality and author of Miss Me with That
"Danny Pellegrino's exuberantly funny and poignant stories of growing up gay are stuffed with loving pop-culture references and laced with real emotion." —Shelf Awareness
"An entertaining story about navigating life with authenticity and laughter." — Kirkus
Sourcebooks, 9781728247984, 272pp.
Publication Date: March 8, 2022
About the Author
Danny is a comedian and writer from Solon, Ohio. He created and hosts the hit podcast Everything Iconic with Danny Pellegrino, available everywhere you listen to podcasts. With over 25 million downloads in 2022, his show frequently appears at the top of the podcast charts. Guests include actors and celebrities like Katie Couric, Rosie O'Donnell, Elizabeth Olsen, Andy Cohen, Daniel Levy, Keke Palmer, Cameron Diaz, Miss Piggy, and more! The show has been featured at Vogue, E!, Entertainment Tonight, Deadline, Today, W Magazine, People, Newsweek, Page Six, Entertainment Weekly, US Weekly, etc.
He authored How Do I Un-Remember This?: Unfortunately True Stories and co-authored two books, Fancy AF Cocktails and The Super Carb Diet.
Growing from his sketch comedy performances at The Laugh Factory, The Comedy Store, The Groundlings, and The Second City Chicago, Danny took his podcast on the road with live sold-out shows across the country. He's also been featured as a host on E!, a guest on WWHL, The Drew Barrymore Show, and more!
His burgeoning screenwriting career includes optioning his first screenplay, 8-BIT MELODY.
Danny can be found on social media via @DannyPellegrino on Instagram and Twitter, or in front of the TV with glass of bed wine.
INSTAGRAM: www.instagram.com/dannypellegrino
TWITTER: www.twitter.com/dannypellegrino
FACEBOOK: www.facebook.com/pellegrinodanny
PODCAST: www.EverythingIconic.com