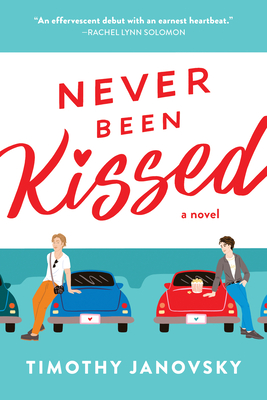 Never Been Kissed (Boy Meets Boy)
Paperback

* Individual store prices may vary.
Description
Dear (never-been-quite-over-you) Crush,
It's been a few years since we were together,
but I can't stop thinking about the time we almost...
Wren Roland has never been kissed, but he wants that movie-perfect ending more than anything. Feeling nostalgic on the eve of his birthday, he sends emails to all the boys he (ahem) loved before he came out. Morning brings the inevitable Oh God What Did I Do?, but he brushes that panic aside. Why stress about it? None of his could-have-beens are actually going to read the emails, much less respond. Right?
Enter Derick Haverford, Wren's #1 pre-coming-out-crush and his drive-in theater's new social media intern. Everyone claims he's coasting on cinematic good looks and his father's connections, but Wren has always known there's much more to Derick than meets the eye. Too bad he doesn't feel the same way about the infamous almost-kiss that once rocked Wren's world.
Whatever. Wren's no longer a closeted teenager; he can survive this. But as their hazy summer becomes consumed with a special project that may just save the struggling drive-in for good, Wren and Derick are drawn ever-closer...and maybe, finally, Wren's dream of a perfect-kiss-before-the-credits is within reach.
A feel-good summer LGBTQIA+ New Adult RomCom, perfect for fans of Red White & Royal Blue, Boyfriend Material, and What If It's Us.
Praise For Never Been Kissed (Boy Meets Boy)…
"NEVER BEEN KISSED is a wonderfully upbeat and sweet blend of self-discovery and second-chance romance. This book warmed my heart — I can't wait for readers to fall in love with Wren and Derick!" - Suzanne Park, author of LOATHE AT FIRST SIGHT and SO WE MEET AGAIN
"Never Been Kissed is the kind of story that sweeps you into the nostalgia of sweet summer days, drive-in nights, and second chances at first loves. Equal parts a love story and a journey of queer self discovery, this was exactly the book I needed in my life. Sweet and sincere, nostalgic and hopeful, this is a romance that will be impossible to miss." - Laynie Rose Rizer, East City Bookshop
"A tribute to movies, drive-ins, and figuring out who you truly are, NEVER BEEN KISSED is a pitch-perfect second-chance summer romance. Watching Wren and Derick navigate their past and their present while fighting for their community and what they believe in will make you want to cheer. This book made my queer heart so very full and deeply happy: everything a rom-com should be." - Anita Kelly, author of Love & Other Disasters
"Janovsky's voice and Wren's character leap off every hilarious page in this fresh, sweet, and swoony love story that blends coming-of-age comedy with the nuances of exploring sexual identity. You will root for Wren and Derick to find each other as much as you root for Wren to find himself in this tender treasure of a book. Never Been Kissed has my whole heart!" - Alison Cochrun, author of The Charm Offensive
Sourcebooks Casablanca, 9781728250588, 288pp.
Publication Date: May 3, 2022