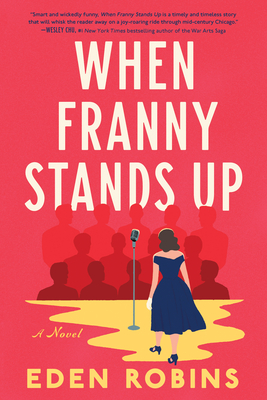 When Franny Stands Up
A Novel
Paperback

* Individual store prices may vary.
Description
Franny Steinberg knows there's powerful magic in laughter. She's witnessed it. With the men of Chicago off fighting WWII on distant shores, Franny has watched the women of the city taking charge of the war effort. But amidst the war bond sales and factory shifts, something surprising has emerged, something Franny could never have expected. A new marvel that has women flocking to comedy clubs across the nation: the Showstopper.
When Franny steps into Chicago's Blue Moon comedy club, she realizes the power of a Showstopper—that specific magic sparked when an audience laughs so hard, they are momentarily transformed. And while each comedian's Showstopper is different, they all have one thing in common: they only work on women.
After a traumatic flashback propels her onstage in a torn bridesmaid dress, Franny discovers her own Showstopper is something new. And suddenly she has the power to change everything...for herself, for her audience, and for the people who may need it most.
Praise For When Franny Stands Up: A Novel…
"When Franny Stands Up is a riot of a book. Its characters burst with life and wit, even as they bristle against the hard edges of their world. Wielding humor and unabashed heart to steer us through a tale of what it means to find real family, and what it means to heal, Robins navigates by every true comic's North Star: comedy comes from pain. She is a gifted storyteller." — Rob Ziegler, author of Seed

"This novel is freaking magic in every way, and it pulls off just about every kind of magic trick you can imagine: it's all about the magic of stand-up and the magic of mid-20th-century Chicago and the magic of friendship and community and family. It's also about magic magic. I adore Franny and am so happy I got to follow her extraordinary adventures and misadventures, and I'm sure you will too." — Juan Martinez, author of Best Worst American

"A debut novel that's fresh and contemporary while feeling like an old favorite. An instant classic. Funny, unsentimental, brave and silly without being unserious. What a book!" — Cory Doctorow, author of Walkaway and Radicalized
Sourcebooks Landmark, 9781728256009, 400pp.
Publication Date: November 1, 2022