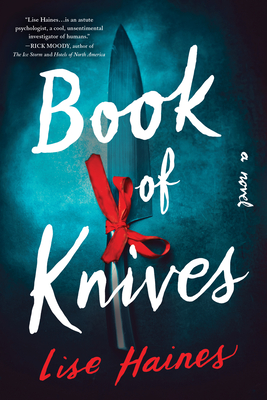 Book of Knives
A Novel
Paperback

* Individual store prices may vary.
Description
There are thirteen knives. One by one they begin to disappear
Nora didn't expect Hidden Lake Camp to be in a state of ruin. Dock full of rotten boards, smashed windows, cabins falling apart. To her new husband, Paul, the camp is the past he'd just as soon bury. Nora agreed to drive north with him to get his elderly parents settled while he makes enough repairs to sell the property. Only a few months, Paul said. The summer camp, however, and its deep lake have other plans.
After Nora's first meal with his difficult family, one knife—part of a prized collection—goes missing. By the time the fourth and fifth vanish from behind locked doors and out from under watchful eyes, Nora can barely sleep. There's talk of ghosts, secret rooms and someone at the summer camp found dead in the tall grass.
Unsettling, gripping, and totally original, Book of Knives is a literary thriller that shows how one person's unraveling can bring the whole house down.
Praise For Book of Knives: A Novel…
"Lise Haines, in Book of Knives, as in all her work, is an astute psychologist, a cool, unsentimental investigator of humans, who often locates the hard truths. In a time of circumspection, her bracing recognition of a more complex human consciousness hits the spot. I admire her work and her sensibility." — Rick Moody, author of Ice Storm and Hotels of North America

"Book of Knives is a beautifully written, richly compelling, Jamesian novel of creeping claustrophobia and menace. Haines spins a web so intricate, and so well constructed, that you're unaware of its strands until you are completely enmeshed in it." — Craig Russell, author of Hyde and The Devil Aspect

"In Lise Haines's subtly menacing and spooky mystery, Nora, a young widow, and her new husband, Paul, join his family at their decaying lakeside summer camp. As a collection of knives disappear from the camp one by one, other unsettling things start to happen and Nora begins to suspect a ghostly presence is haunting the lake and cabins. Beautifully written and endlessly absorbing, this is a novel to read with the covers up around your chin and a candle burning." — Sarah Taylor Stewart, author of the Maggie D'arcy mysteries

"In Book of Knives, Lise Haines has created a believable world of terror where nothing is what it seems. Seen through the perceptive eyes of complex characters, a series of vivid scenes unfolds. One finds all one's worst fears echoed here in an increasingly suspenseful and surprising crescendo of events. Wonderfully done." — Sheila Kohler, author of the literary thriller Open Secrets, one of Vogue's best books of 2020

"Lise Haines' Book of Knives is an utterly absorbing, extremely suspenseful, and elegantly written literary ghost story. I was intrigued, and scared, and ultimately deeply moved by this compelling novel about family and the love that transcends death." — Jessica Treadway, author of Infinite Dimensions
Poisoned Pen Press, 9781728257310, 320pp.
Publication Date: October 4, 2022