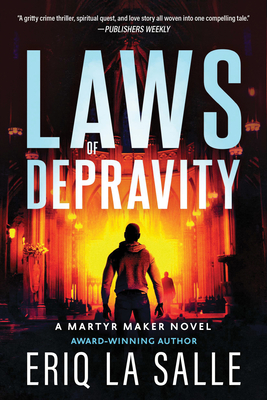 Laws of Depravity (Martyr Maker)
Paperback

* Individual store prices may vary.
Other Editions of This Title:
Digital Audiobook (10/31/2022)
Description
From actor, director, producer and award-winning author Eriq La Salle comes the first in a heart-pounding crime thriller series that will leave you on the edge of your seat, frantically questioning the blurred lines between good and evil.
30 years. 36 priests butchered. His bloodiest masterpiece is yet to come.
Every ten years, for the past 30 years, a dozen clergymen are killed, brutally murdered in twisted scenes emulating the deaths of Jesus and his disciples. It is the work of a serial killer known as "The Martyr Maker." And in 2011, he set his mark on New York City.
NYPD detectives Quincy Cavanaugh and Phee Freeman, along with F.B.I. agent Janet Maclin know that they have very little time to catch this monster before he completes his final cycle of killing and disappears forever. But the investigation is made even more difficult when they discover that the seemingly unrelated clergymen are anything but the symbols of godliness they would have their community believe.
Praise for Laws of Depravity:
"Laws of Depravity may be the most engrossing book you read this year, bar none."—Lee Ashford, Reader's Favorites
"...an utterly compelling and riveting thriller with echoes of the dark master, Thomas Harris. Here, La Salle also adds a surprising twist by weaving in a spiritual component that raises the narrative to lofty and thought-provoking levels. It's a wonderful accomplishment."—Leonard Chang, author of Over the Shoulder and Crossings
"Actor and director Eriq La Salle's intense debut is a modern day parable cleverly masquerading as a crime novel. A muscular, gritty and spiritual thriller."—John Shors, bestselling author of Beneath a Marble Sky, Beside a Burning Sea, Dragon House, The Wishing Trees, and Cross Currents
"Laws of Depravity will take you on a heart-pounding ride of vengeance, murder and atonement, never letting you rest until you've reached the final page."—Neal Baer, co-author of Kill Switch and former Executive Producer of "Law and Order S.V.U."
"The surprises keep coming in La Salle's twisting debut thriller, in which good and evil aren't always black and white. In addition to the absorbing, fast-paced plot that will keep readers guessing until the end, each wonderfully sculpted character has a distinct, lifelike personality."—Kirkus Reviews, STARRED review
"A gritty crime thriller, spiritual quest, and love story all woven into one compelling tale."—Publishers Weekly
Ebony Magazine Publishing, 9781728261003, 400pp.
Publication Date: November 1, 2022
About the Author
ERIQ LA SALLE is an actor, director, producer, and author best known to worldwide television audiences for his portrayal of the commanding Dr. Peter Benton in the award-winning, critically acclaimed medical drama, E.R. He was raised in Hartford, Connecticut, and educated at Juilliard and NYU's Tisch School of the Arts.