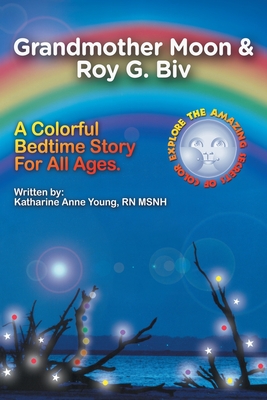 Grandmother Moon & Roy G. Biv; Seeing Without Seeing
Paperback

* Individual store prices may vary.
Other Editions of This Title:
Hardcover (2/15/2021)
Description
Roy G. Biv settled under his cozy comforter, the sky light was bright, and the stars were dancing. Roy shook his head, get a grip, then he envisioned himself, 10 years older. Not a nice sight He sat upright and prayed for a better life; for sure, he wanted to shed the feelings of boredom, and his lack luster attitude. But How? Within minutes, Grandmother Moon's Light shone directly onto Roy's bed. She spoke quietly to him, and tried to muffle her excitement. Hooray Roy, I will offer you 7 monthly sessions, (she chose 7 for each letter of his name); in fact the content of the lessons date back to ancient cultures. Now just settle back, and I will infuse the 1st lesson 'R' for Roy. Roy reached to close the shade, he was not interested Grandmother Moon pretended not to hear his rebuttal, Night, Night Roy. Seeing without Seeing: The Dilemma of ADHD After Roy's 7 monthly lessons, Grandmother Moon set out to uncover any methods that could, or would, support children diagnosed with learning disabilities. She was not adverse to medications, short term, but she did feel the need to explore options. The first words that came to her were: Chaos, Food Allergies, Artificial scents and Artificial lighting. These 4 subjects took a lot of time to explore and define. At the same time Grandmother Moon set out to acquaint herself with Holistic Practitioners, Nurse Healers, Holistic Nutritionist, and Practitioners from Chinese and Ayurveda Practices. Overtime an unexpected therapy revealed itself as a non-invasive, hands-on family therapy. Almost a year later, Grandmother and Roy celebrate each other at their last meeting. In honor of the beauty of nature, they celebrate at the top of Blue Hills with hilarious outbursts and flooded tears. Roy stayed with Grandmother Moon til early dawn. As he descended down the hills, Roy set off to University of Mass Boston to prepare for his future as a Holistic Physician.
Authorhouse, 9781728327266, 112pp.
Publication Date: February 15, 2021
or
Not Currently Available for Direct Purchase