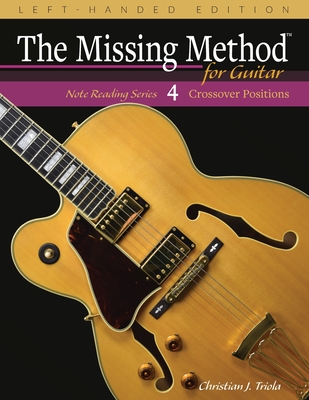 The Missing Method for Guitar, Book 4 Left-Handed Edition
Note Reading in the Crossover Positions
Paperback

* Individual store prices may vary.
Other Editions of This Title:
Paperback (6/30/2018)
Paperback (4/19/2018)
Paperback (4/17/2018)
Description
Connect your knowledge of the fretboard. Master note reading in crossover positions.
If you've been playing guitar for a while, you've probably discovered that learning to piece together the notes on the fretboard is not an easy task. Yet, the fifth position is where most professional guitarists love to play, and the 9th position contains some of the richest tones on the neck.
Unlock your musicianship
The Missing Method for Guitar Note Reading Series is designed exclusively to teach you to master your fretboard. And this, the fourth book in the note reading series, is your guide to completing your mastery of note reading in the middle of the neck. It covers two crossover positions--3rd and 7th--so you'll be ready to grab the notes you need when you need them.
Discover the Power of Note Reading
Like all Missing Method books, when we say "mastery," we mean it. With ample instructions, illustrations, and practice, when you've finished the book, you will:
Know how to read notes by crossing over the open and fifth positions, in every key
Know how to read notes by crossing over the fifth and ninth positions, in every key
Developed your rhythm skills
Practiced reading in minor keys, including relative, melodic, harmonic, and jazz-melodic minors
Solidify Your Skills
Missing Method books are designed to develop mastery in a particular skill. To that end, in this book you you will also:
Review open, fifth, and ninth positions
Practice changing keys within a song
Independently Published, 9781729258279, 234pp.
Publication Date: November 19, 2018