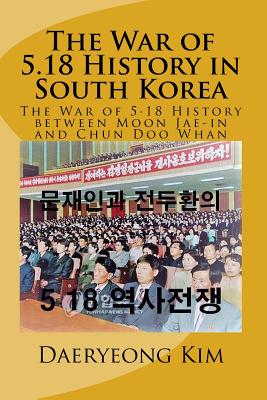 The War of 5.18 History in South Korea
The War of 5.18 History Between Moon Jae-In and Chun Doo Whan
Paperback

* Individual store prices may vary.
Description
The primary language of the book entitled The War of 5.18 History in South Korea is Korean language with few occasional English texts. The subtitle of the current volume is The War of 5∙18 History between Moon Jae-in and Chun Doo Whan. While the primary language is Korean, all the 120 illustrations that appears on the book are important historical data which any non-Korean readers can grasp visually. This new book is much more complete, updated, and supplemented than Gwangju Uprising Overthrown by Moon Jae-in's 5-18 Tear, which was published nine months earlier.
If one wants to know what has been going wrong with the democracy of South Korea, especially under the oppressive regime of Moon Jae-in, this is the book one must read. The biggest lie ever told in history is the claim that Gwangju Uprising of May 1980 was a pro-democratic movement. How do you, then, explain the cover photo of the book which is from the 30th anniversary Gwangju People's Uprising celebrated elaborately in North Korea? Does this mean North Korea is supporting democracy in South Korea? The answer is, of course, "No " This is why now is a time to present the facts and truths of the incident, shattering and overthrowing the false narratives of Gwangju Uprising which was organized and led by pro-Communist, anti-American, and pro-North Korean groups.
The subtitle "The War of 5∙18 History between Moon Jae-in and Chun Doo Whan" indicates that the lie of Strongman Moon Jae-in and the truth of former President Chun Doo Whan are at war in a battle field where two oposite perspectives are competing. The battle is about how to view and understand 5∙18 Gwangju Uprising that happened in from May 18 to May 27 of 1980. The interpretation of modern Korean history is hinged on this perspective. Korean politics is heavily dependent on this. Those who have been fooled by the white lies, false rumors, fake news, wrong reports, and false narratives of Gwangju Uprising are now wondering what has misled democracy in South Korea.
The book is made up with three parts at large. The first chapter is about Strongman Moon Jae-in, about his political career that has been untold like a top secret. The second and third chapters are about President Park Geun-hye, about what happened to her in 2016-2017, and all about impeachment by fraud. The other chapters from Chapter Four to Chapter Twelve is about the truth and the real fact of Gwangju Uprising that took place in May 1980. It was an old incident of almost four decades ago. Yet, national discussion and investigation about the old incident is still going on as a form of what the book calls "The War of 5∙18 History between Moon Jae-in and Chun Doo Whan.
One aspect of the book is that it is a response to the sad joke to say that Moon Jae-in took a part in pro-democracy protest in his early days. One should ask to those who make such false claim: Since when Mr. Moon's policy of pro-North Korean regime began? Just from May 2017? Everyone knows that it is nonsense to claim so. His pro-North Korean (and therefore anti-American) position has a historical root that goes back to 1970's. For any scholars, researchers, and students who want to know what man Moon Jae-in really is this book is a good reference, especially in a time when the problem of North Korean nuclear program is a factor that affects global peace.
Thus, the book The War of 5.18 History in South Korea is not just about a past history. South Korea is a country where the past history is tightly linked to current political affairs. One cannot fully identify the substructure of Korean politics without first seeing the past history. Part of the book is meant to appeal to the international society to pay attention to the violation of human rights by Strongman Moon's regime against President Park Geun-hye, who was impeached by fraud and imprisoned for no reason.
Createspace Independent Publishing Platform, 9781729649176, 482pp.
Publication Date: November 5, 2018
About the Author
The author Dr. Daeryeong Kim is both a theologian and a historian. He earned a Doctor of Philosophy degree for his research in the field of epistemology at Fuller Theological Seminary. This academic background enables him to bring a unique contribution to studies in modern Korean history. One cannot fully understand Korean political affairs without first fully understanding different ideologies at war in Korean society. With the background of his theological, epistemological, and intercultural studies, Dr. Kim is a unique historian who can describe and interpret the nature of ideological war in South Korea. Many volumes of his previous works are stocked at the library of universities around the world. His earlier education includes history with the University of Maryland and theology at the Presbyterian University and Theological Seminary in Seoul.