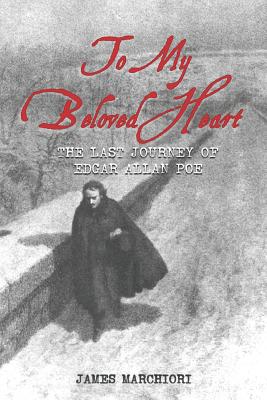 To My Beloved Heart (Paperback)
The Last Journey Of Edgar Allan Poe
Independently Published, 9781730738319, 246pp.
Publication Date: December 21, 2018
* Individual store prices may vary.
Description
Walk in Edgar Allan Poe's shoes and get to know him as a man before the writer
A celebration of the Gothic gloom in a powerful and evocative theme throughout the nineteenth literary century. Gordon Pym, Alice in Wonderland and Jules Verne as a universal view of travelling. This novel pays tribute to Edgar Allan Poe and his tormented life. After his spouse's death, suffering from a devastating condition of neglect, Edgar leaves New York to save his soul from demons and desolation. Italy his destination. But soon after his departure, he needs to face the abyss he has continuously tried to escape. A terrible shipwreck forces him to cross the darkest lands of Europe. Backed by some enigmatic fellow travellers, he will find himself fighting for his own life, realizing it's still worth it, but an unexpected mystery will upset his every perception and drive him to avenge an abominable outrage to his heart, his beloved heart.
"To My Beloved Heart" can undoubtedly be depicted as a story within a story, a journey through time, in space but even more so in the soul. The setting takes us back to the nineteenth century by Edgar Allan Poe, the great master of horror literature, to whom this novel pays homage. And he finds himself the protagonist of an adventurous journey, started to give relief to his torment, but that will put him in front of the ghosts that haunt him so relentlessly. In a setting with a typically Gothic flavor, both for the refined choice of language and for the descriptive aspect of the unfolding of the actions, Edgar Allan Poe fully relives his time and deals with fellows of fortune who, if nothing else, will serve to confirm his own existence on the edge of the unreal and the subconscious. Through a desperate search to redeem the love of his life, he has to cross Europe until reaching Venice, to which Poe himself paid tribute in 1834 writing 'The Assignation'. This is not a book that claims to relocate the figure of the American writer within a geographical and social context, already analyzed and discussed several times by the most influential scholars. It is a brave tribute to a lost, and tormented soul; it is a celebration on the constant pursuit of inner peace, meant as a trophy for the endless escape from reality. A search that has generated struggle and anguish throughout his whole existence, from which unique masterpieces were born. But make no mistake In this novel, nothing is really as it seems, and the introspection of the soul will lead to the supreme perception of consciousness.