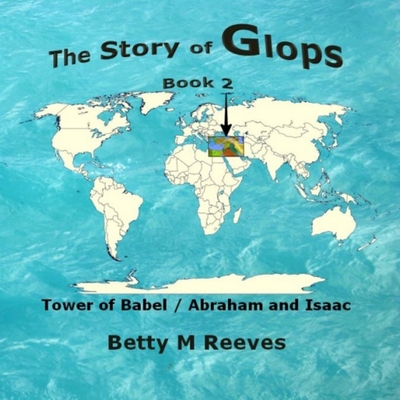 The Story of Glops, Book 2 (Paperback)
Tower of Babel / Abraham and Isaac
Independently Published, 9781730932687, 60pp.
Publication Date: September 19, 2018
* Individual store prices may vary.
Description
Glops were practically invisible and they slowly oozed to move, but they managed to witness Biblical events of long ago. The Story of Glops continues as people, animals, and creatures spread over the world, far and wide. Glops saw the Tower of Babel and they were present with Abraham and his boy Isaac on the mountain. Read The Story of Glops to learn what the glops experienced.
About the Author
Betty M Reeves has written two music books, Melody Street: Story and Illustrations and Guitars & Folk Songs: An Anthology. With daughter Elayne M Hoover-Sims, Betty co-authored The Story of Glops, a Christian book for children/youth. Since then, Betty has continued telling about Glops in a series. She is an arranger/composer, and self-publisher. She taught music for 23 years and volunteers in two choirs and in the music ministry of her church. Her Master of Arts in music with Kodaly certification is from WTA&M University, Canyon, Texas; her Bachelor of Music Education is from Texas Tech University, Lubbock, Texas. Betty and her husband Glenn live in Borger and Amarillo, Texas. They are blessed with five grown children, nine grandchildren, and many great-grandchildren.
Praise For The Story of Glops, Book 2: Tower of Babel / Abraham and Isaac…
I love, love this book! What a great surprise to learn some new characteristics of those persistent little glops! They are so personally involved with the people of the Bible that the reader can feel as if he/she is there, observing and interacting with the tower builders, with Abraham and with Isaac. There is a lot of depth in these stories that are, nevertheless, easy for young readers to understand. Can't wait for more glop adventures! Marion Kindy, Retired Teacher, Plemons-Stinnett-Phillips CISD, Stinnett, TX

The Story of Glops 2: Tower of Babel / Abraham and Isaac is yet another entertaining Biblical adventure for children. Younger children will love hearing the stories, and will also be enlightened and entertained by colored photographs scattered throughout the book. Older children will be able to read the stories by themselves. As in the author's first book featuring unique, invisible creatures known as "glops," Betty has found a way to interweave the playful, curious, and helpful glops, into two well-known stories from the Old Testament. In "Tower of Babel," the glops tried to intervene. In "Abraham and Isaac," the glops, troubled and curious, tried to find their own role in what was happening. We are also introduced to Ishmael, who was important in this story of God blessing the descendants of Abraham. Jeannie F Linzie, Retired Library Associate, New Mexico Highlands University, Las Vegas, NM

What a fantastic story to teach the children about the Bible! I am proud of your heart for His Word and your heart for precious children. I did enjoy reading your book. In fact, I think it may teach the parents stories from the Bible also. Judy Hart, Wife, Mother, Grandmother, Retired English Professor, Frank Phillips College, Borger, TX

I love that the adventure continues for the cute little Glops. This book is a wonderful way to inspire my children creativity while they learn Biblical truths. We see how the Glops were created to worship and honor God as they tried to be helpful at these historical events in the Bible. So thoughtful, creative, and informative! Emily Martinez, Wife and Mother of Two
Young Children, Hair Stylist, Borger, TX

or
Not Currently Available for Direct Purchase