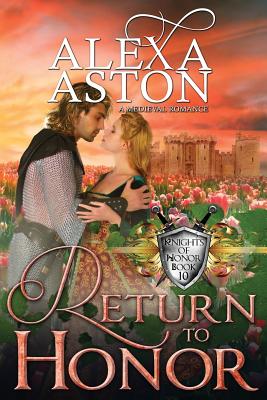 Return to Honor
Paperback

* Individual store prices may vary.
Description
It's Book 10 in the bestselling Knights of Honor series - Medieval Romance for the ages 1395 A.D. - Adopted as a newborn by one of England's most powerful families, Jessimond de Montfort is now grown-and curious about her roots. She sets out to learn who she is away from her family and joins a mummers' troupe, where she serves as a seamstress and troubadour, hoping she'll discover love along the way, as all her married siblings have.Returning from two years of battle in the king's service, Sir Marcus de Harte discovers his beloved mother has died and his father has remarried and fathered a pair of daughters. His anger drives Marcus from Hartefield, from his home, and he finds a new home among a group of actors.Drawn to one another, Jessimond and Marcus become friends-and then lovers-until they are driven apart by unforeseen circumstances. Join Jessimond and Marcus as they move heaven and earth in order to unite once more and share in a powerful and unforgettable love.Each book in the Knights of Honor series is a standalone story that can be enjoyed out of order.Series Order: Book #1 Word of HonorBook #2 Marked by HonorBook #3 Code of HonorBook #4 Journey to HonorBook #5 Heart of HonorBook #6 Bold in HonorBook #7 Love and HonorBook #8 Gift of HonorBook #9 Path to HonorBook #10 Return to Honor.
Independently Published, 9781731022240, 252pp.
Publication Date: November 8, 2018