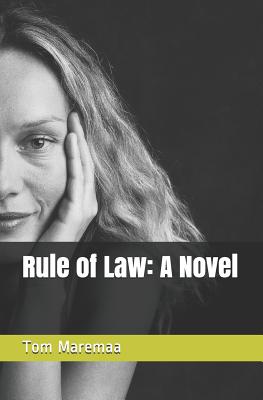 Rule of Law (Paperback)
Independently Published, 9781731290656, 232pp.
Publication Date: November 13, 2018
* Individual store prices may vary.
Description
Rule of Law opens on the campus of the University of Santa Lucia, in California, as we find rocks being hurled at John P. Bokker III, a constitutional law scholar who authored the infamous legal memos justifying torture while serving in the Justice Department as deputy chief and advisor to the White House. Bokker has returned from Washington to teach law at the University. The law school faculty is adamant in upholding Bokker's tenure and right to teach. The city council of Santa Lucia, however, thinks differently, passing a resolution condemning his actions and "crimes against humanity," but the resolution has no teeth. Enter a young campus leader and pre-med student named Carlos Kennedy-Sanchez, also known as Cheetah. He is remarkably charismatic, another Che to his classmates, a man feared by the authorities because of his ability to mobilize large numbers of students and lead the protests demanding Bokker's resignation. Riots have erupted on campus. Suddenly, Cheetah disappears one night in a snatch-and-grab operation by a pair of hooded men, and is taken to a detention facility in the Mojave desert, a black site, off the gird, where ghost prisoners are subjected to torture. His interrogators want him to confess to being the mastermind of a sleeper cell and an architect of future terrorist acts.We now meet Kate Hawkins, a returning, wounded vet from Iraq, the winner of several Purple Hearts, who moves back to her hometown of Santa Lucia to take care of her ailing father. She struggles to find work, but fails in her efforts. Meanwhile, Bokker is in touch with agents from the government for whom he provided legal cover, and is encouraged to take a year or two off until things cool down and the new administration currently in Washington decides it has no stomach to prosecute him and others for violating the Geneva Conventions and authorizing enhanced methods of interrogation, as well as warrantless wiretapping, among other crimes. He is told by the Agency he must now move his family to the South African country of Zamboor-Kalahar where he can teach law and keep a low profile. In a series of dramatic and dangerous events, Kate runs afoul of the law and is offered a deal with her presiding judge to accompany Bokker and his family to Zamboor-Kalahar, and provide a shield of protection in case there are any problems. Kate needs to make money as a mercenary, a soldier of fortune, to support her father's deteriorating health condition, and agrees to the deal.Now the story shifts to the country of Zamboor-Kalahar, where we meet a fugitive, yet charitable New York financier, Toby Bloom, who has moved to the country because it has no extradition policy with the US. The scene opens at Bloom's son's bar mitzvah, with guests flown in from London, New York and Tel Aviv. Bloom lives in a sprawling compound of villas that house diplomats, businessmen, and government officials, all of whom are seeking to exploit Zamboor's rich lode of oil and mineral resources. Bloom agrees with his friends at the Agency to help set up John Bokker and his family when they arrive. One of Bloom's friends is a man named J rgen Fassbinder, a safari guide and expedition leader, who later becomes romantically involved with Kate Hawkins. We follow Cheetah's escape from the Mojave detention facility, Bokker's exposure as a dark figure in the torture wars, Bloom's loss of his young son and plan to redeem himself and pay back his debt to society, Kate's reversal of position, and other events that lead to a chilling and ironic conclusion to the novel, which ends in the city of Rotterdam, Holland, at the Hague.