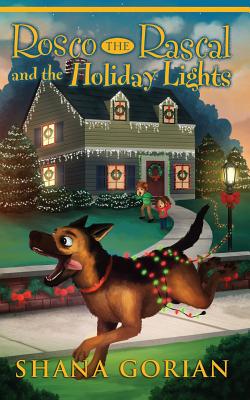 Rosco the Rascal and the Holiday Lights
Paperback

* Individual store prices may vary.
Description
James and Mandy's neighborhood has taken first place in the holiday lights Best Block contest, but will Rosco's attempts at helping wreak havoc and wreck Opening Night? And will Mandy's insistence on working independently be her downfall at the school train parade? Find out in this heartwarming Christmas adventure, the fifth installment in the Rosco the Rascal series, which follows the adventures of a fifth grade boy, his second grade sister, and their fun-loving German shepherd.
Renaissance Accelerated Reader Book Level 4.2. AR Quiz No. 500815
*Recommended for kids 6-10. Grades K-5
*Books do not need to be read in series order
*Contains a back-of-book dictionary with underlined words to encourage the use of new vocabulary
*Early Middle Grade reading level: perfect for an advanced younger reader or an on-level older reader
*Great for 3rd-5th grade classroom read-aloud
"I really like this book and this author. She genuinely understands what matters to young children, and writes with warmth, humor, and more suspense than you might expect in a Christmas story. As an adult reader, by the time I was one third through the book, I couldn't put it down. ...If you want stories to stir the hearts of the young people in your life, the Rosco the Rascal series is a lovable choice. This book, though seasonal, is my favorite so far." Larry Feign, author
"...These books are stand-alone adventures, but readers are likely to be hooked on the series after reading any one of them." Barbara Ann Mojica, children's author and Top Contributor, Amazon Children's Books Reviews
This book is Story Monster approved The Story Monsters Approved book designation program was developed to recognize and honor accomplished authors in the field of children's literature that inspire, inform, teach, or entertain. A Story Monsters seal of approval on a book tells teachers, librarians, and parents they are giving children the very best. Story Monsters LLC
Fans of The Magic Tree House series will love this brother and sister pair, and fans of classic, heroic dogs - from Lassie to Beethoven - will love Rosco.
R. R. Bowker, 9781732061132, 210pp.
Publication Date: December 8, 2018