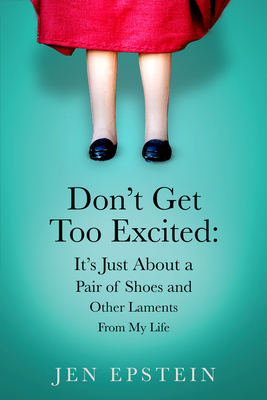 Don't Get Too Excited
Paperback

* Individual store prices may vary.
Description
Jen Epstein was born a worrier. As a child she worried her uvula would break off and she would swallow it and choke to death. Then she worried high voltage wires would get her. Eventually she was diagnosed with learning disabilities and later, Obsessive Compulsive Disorder. Smart but challenged, Jen navigates two years in Israel as a high school student and squabbling with technical support for her TV. She survives a two-night stay in the hospital, with all its dangers of contamination, and the nursing staff traipsing into her room at all hours of the night wanting her bodily fluids.     

    Whether pondering motherhood or refusing to drink ice water in Costa Rica, Jen, with her self-deprecating humor, exposes her inner demons with stories that are sometimes heartbreaking and always deeply personal, tapping into the minutiae of her life with distinctive style and themes of universal appeal.
Praise For Don't Get Too Excited…
"In the spirit of writers like Jenny Traig and Augustan Burroughs, Jen Epstein writes about her experiences living with anxiety and OCD with humor and heart. Whether she's obsessing over rabid bats in Costa Rica or facing herself in dressing room mirrors, Epstein reminds us that worry is the disease of and for our troubled times. If you've ever wondered just what's in your drinking water, if you've ever endured the dubious joys of life's zip line while waiting for it to snap, you'll find a friend in Jen Epstein." —
Lori Jakiela
, author of 
Portrait of the Artist as a Bingo Worker
 and 
Belief is its Own Kind of Truth, Maybe
"Jen Epstein's Don't Get Too Excited: It's Just About a Pair of Shoes and Other Laments From My Life is a colorful, fun ride through Obsessive Compulsive Disorder, something that is not generally characterized as such. This book made me laugh and revel in it's relatability the way I snuggle into a down comforter on a cold night. I recommend for anyone who needs to laugh in the face of the things about themselves they find most torturous. Read this and walk away a thousand pounds lighter." — Hannah Boone, Obsessive Compulsive Stand Up Comedian and member of sketch group The Pepperoni Zone
Green Writers Press, 9781732081543, 180pp.
Publication Date: November 27, 2018
About the Author
Writer, activist, worker bee, Jen Epstein was raised by two mental health professionals and suffered as a child from anxiety and irrational fears. These fears evolved over time into Obsessive Compulsive Disorder.
   Despite this, Jen received her BA in communication arts at Ramapo College of New Jersey and an MA in media studies at the New School. She has held positions in the television industry as a project manager and completed a documentary arts fellowship at UnionDocs in Brooklyn, both while working full-time for the nonfiction media company Discovery. She lives in Brooklyn, New York.
or
Not Currently Available for Direct Purchase