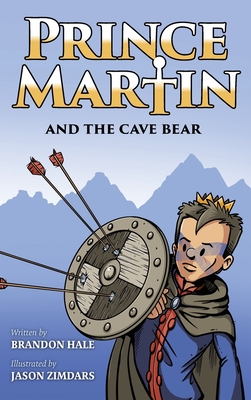 Prince Martin and the Cave Bear
Two Kids, Colossal Courage, and a Classic Quest
Hardcover

* Individual store prices may vary.
Other Editions of This Title:
Paperback (5/2/2019)
Description
Premium full-color hardcover edition.
Is your son a reluctant reader? Is he a boy who
hates
reading? If so, the Prince Martin Epic chapter book series is a perfect fit because each book features:
◆ High-stakes action-adventure and danger
◆ Brilliant color illustrations that explode off the page
◆ Text that appears to be prose-but subtly rhymes
This is the trifecta to engage boys And it's the rhyming verse that gently pulls them along, encouraging them to find the next rhyme - and want to read the whole book.
Parents and grandparents will love the series because each tale contains a moral-without a lecture-that encourages the virtues of bravery, loyalty, grit, and compassion, which are traits boys need to become good men.
In Prince Martin and the Cave Bear, the Prince and his friends must rescue a blind cave bear cub from the circus and return him to his home in the frozen north. During their perilous quest, the boy must overcome his greatest fear through grit and determination, two virtues he'll need to someday become a king.
Ages 8 and up.
Get your copy now - because their hearts will soar...
Praise for
Prince Martin and the Cave Bear
:
"A thrilling adventure story that teaches young readers the importance of such virtues as courage, loyalty, and discernment while also instilling in them a love for the sound and rhythm of words."
- Louis Markos, Ph.D., author of On the Shoulders of Hobbits and The Dreaming Stone
Boys who like swords, knights, castles, quests, and heroic action will love the Prince Martin Epic chapter books series. Each tale can be read in order or as a stand-alone:
★ Prince Martin Wins His Sword
★ Prince Martin and the Thieves
★ Prince Martin and the Dragons
★ Prince Martin and the Cave Bear
★ Prince Martin and the Last Centaur
★ Prince Martin and the Pirates
Band of Brothers Books, 9781732127869, 174pp.
Publication Date: May 2, 2019