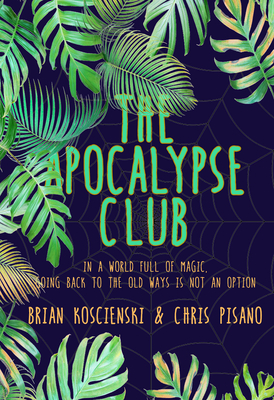 The Apocalypse Club (Paperback)
Treehouse Publishing Group, 9781732139152, 280pp.
Publication Date: May 14, 2019
* Individual store prices may vary.
Description
An ancient cult of blood magic rises. All hope is on a circle of young sorcerers who must master arcane knowledge, powerful talismans, and their own desires. 
One day Bree Moore is an average high school sophomore focused on her grades, worried about losing her lifelong friends due to a misunderstanding, and avoiding the attention of a few "mean girl" cheerleaders. The next, she is, well, a magician.
After she discovers that one of her teachers is also an instructor at an experimental institute for the study of intercultural magic, Bree accepts an invitation to become a part-time student there. She is quickly swept up in the excitement of meeting kids from around the world and learning about her abilities—until she learns that all is not what it seems.
While trying to help one of her classmates find his missing sister, Bree learns that the school is a front for training students to fight the impending threat of Talo, a zealot and cult leader determined to bring the Mesoamerican gods of blood sacrifice back to the world. With her fellow students, she devises a plan to find the missing girl, but then learns that one of her new friends is a traitor.
Who can she trust in this new life? Have the instructors been lying to her? Can she balance this world with her old life? Will The Apocalypse Club save her life or destroy it?
About the Author
Brian Koscienski & Chris Pisano skulk the realms of south, central Pennsylvania. Brian developed a love of writing from countless hours of reading comic books and losing himself in the worlds and adventures found within their colorful pages. In tenth grade, Chris was discouraged by his English teacher from reading H.P. Lovecraft, and being a naturally disobedient youth he has been a fan ever since. They have logged many hours writing novels, stories, articles, comic books, reviews, and the occasional haiku. During their tenure as a writing duo, they even started Fortress Publishing, Inc., a micro-press publishing company responsible for the "TV Gods" anthologies.