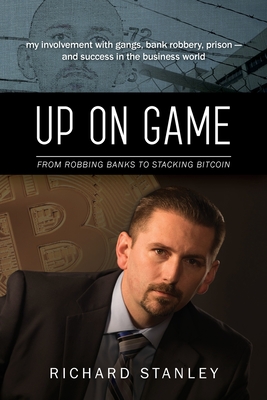 Up on Game (Paperback)
From Robbing Banks to Stacking Bitcoin, My Involvement with Gangs, Bank Robbery, Prison--and Success in the Business W
Melrose & Main Publishing, LLC, 9781732141711, 200pp.
Publication Date: March 21, 2018
* Individual store prices may vary.
Description
BANK ROBBER TURNS TO STACKING BITCOIN
Cryptocurrency Trader No Longer Needs Banks
Richard Stanley was known as the "Skinny Bandit"-a bank robber who targeted San Diego area banks. Meticulous and calculating, he continually evaded capture and grew brazen with each additional heist in the early 2000s. Another man who resembled the Bandit was even taken into custody and almost charged.
The robberies continued, and it appeared that the FBI would never catch the elusive yet polite robber who went from teller to teller saying, "Put the money on the counter..." and walked away with thousands in cash in a clear plastic bag.
Upon his sudden arrest, the shocking truth was finally revealed when this criminal mastermind who repeatedly outwitted authorities turned out to be eighteen-year-old Richard Stanley, a whiter-than-cocaine kid from the Hispanic gang-filled streets of Otay in San Diego.
Why Did He Rob Banks?
The first time was for cash to buy a Taco Bell grande meal.
Today, the Skinny Bandit is a successful entrepreneur, in legit business in the adult marketing world, and a day trader in bitcoin cryptocurrency.
Richard Stanley did his time-seven-plus years in Donovan, a rough Southern California prison, where he hustled to stay up on game and where he experienced the real Orange Is the New Black-and where he witnessed the worst horrors of the prison system, from guards killing inmates to rampant drug use and the lengths desperate people go to get what they need (such as snacks, drugs, cell phones, and warm clothing).
WARNING to readers: This book contains offensive language and graphic descriptions of criminal activity.
The Story of the Neighborhood Struggle
Richard Stanley recounts his tumultuous childhood of growing up in the dangerous neighborhood of Otay, surrounded by gangs, drugs, violence, and poverty.
His crimes started with petty shoplifting before graduating to bank robbery. After a short time, Stanley had perfected his craft and hit multiple banks. Each time, he and his crew evaded capture, but one critical mistake cost him everything. The FBI finally tracked him down, and Stanley was sentenced to hard time in one of Southern California's worst prisons, but his story was only beginning.
Stanley details his time in prison and how he sold drugs from behind bars. He also illustrates what daily life was like in jail, his interactions with the other inmates, and the dark side of the correctional officers whose jobs are to maintain law and order. He wondered just who the criminals were-the guards or the inmates. Maybe both.
Making the Case for Prison Reform
After his release, Stanley learned the ropes of-and became very successful in-adult online marketing with exotic dancers and professional escorts where he was introduced to bitcoin as a form of payment.
He schooled himself in bitcoin trading and other cryptocurrencies. Although he doesn't say he's an expert, he's moved up in the world to swanky Newport Beach, where his business is based, and where he lives a life far from the hellhole of the two-man prison cell at Donovan.
With his degree in "business" from one of California's finest institutions where he was given a free ride in their eight-year program (with a seven-month sabbatical in solitude), he's graduated from bank robbery to stacking bitcoin as a legit entrepreneur and shares a vital message: People can change.
READ THE FIRST CHAPTER and for more info, visit the book's website: www.UpOnGameBook.com.
About the Author
Richard Stanley was raised in a lower income area of South San Diego. Although he was a high school dropout, he obtained a business degree as a serial entrepreneur-in bank robbery. As acknowledgment of his work in the banking industry, he was graciously accepted into an institution of higher education operated by the California state prison system to further his studies in the criminal justice field with a full-ride scholarship for no less than seven years, out of a possible eight. During his tenure at the Donovan campus, he specialized in a course in hustling and earned an informal degree in procuring life's necessities and wilderness survival skills. For his efforts, he was rewarded with a sabbatical of sorts and was allowed seven months of personal time in solitude for reflection to just appreciate life. He was off the grid, so to speak, and not allowed cell phones, laptops, or even eating utensils at times. Although Stanley initially declined the retreat time, the institution insisted he spend time in a remote part of campus. Because most employers would not recognize his degree in higher education, Stanley found it difficult to obtain employment in any field once he left his educational institution. He eventually became an ironworker until he was sidelined with an injury. Using his entrepreneurial skills and exclusive state-funded education, he developed more conventional ways to hustle and currently serves as a consultant to business leaders on the adult marketing world and is co-owner of the online classified website, freevurse.com. He also has become a day trader in Bitcoin and Litecoin because he has vowed to never rob a bank again, and now with cryptocurrency, he will never need a bank again. Stanley lives in Newport Beach, California, with his girlfriend and her daughter. He enjoys the finest marijuana and excellent Southern California red wine.