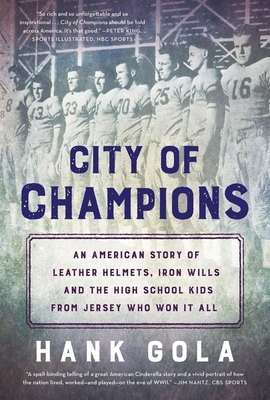 City of Champions
An American story of leather helmets, iron wills and the high school kids from Jersey who won it all
Hardcover

* Individual store prices may vary.
Description
On Christmas night, 1939, two vastly different teams from Garfield, New Jersey, and Miami, Florida collided in the historic Orange Bowl to decide the National Sports Foundation's national championship. Garfield's Boilermakers were children of immigrants drawn to the industrial city's churning factories. Miami's Stingarees were from families from all over the country settling in one of America's most promising and thriving cities.
In City of Champions, Hank Gola, a veteran and award-winning football writer, unveils this long-forgotten game. Gola mines stories of the towns and the lives of the players and coaches—detailing the grit (and wild strokes of fortune) that led up to a Garfield victory, stunning the football world. Gola also describes how this game mirrored America, revealing some of the most pressing cultural, economic and socio-political issues of the day.
Praise For City of Champions: An American story of leather helmets, iron wills and the high school kids from Jersey who won it all…
"On Christmas night in 1939, two high schools from widely different backgrounds met at the Orange Bowl in Miami to play in an improbable national championship game that had big-time connections running as deep as Franklin Roosevelt. Author Hank Gola's inspiration for the book came from growing up in Garfield, N.J., and hearing for decades about the local high school's famous team and game. Gola details the circumstances leading up to the showdown and how they were impacted by the nation's political climate on the eve of World War II. In fact, the game was conceived as a way to raise money to kick off Roosevelt's campaign to find a cure for polio, which was ravaging the country. Garfield, comprising sons of blue-collar immigrants, was selected by a group that included legendary sportswriter Grantland Rice to meet Miami High, made up of players from mostly thriving families in Florida's late '30 economic boom. This book has a "Friday Night Lights" element to it. With the NFL still in its infancy, Garfield played games attracting upward of 20,000 fans, as those teams filled the struggling town with an immense sense of pride. Garfield's best player, the wonderfully name Benny Babula, is a somewhat reluctant star who didn't enjoy the spotlight that came with his feats. Gola's book is a vivid read, showing how high school football brought together communities during a troubled time." — Ed Sherman, Chicago Tribune
"Veteran New York Daily News sportswriter Gola delves deeply into a fascinating forgotten story of a national champion high school football team from his hometown of Garfield, NJ. The book depicts life there during the Great Depression. Garfield was an industrial mill town, largely populated by Polish, Italian, and German immigrants, whose sons were brought together by a charismatic young coach to win consecutive state championships in 1938 and 1939. The team was then invited to Miami's Orange Bowl to face the powerful Miami High in a charity game for the national championship. Gola covers the backgrounds of both cities, teams, and coaches, as well as the trip South and the game itself―won on a field goal in the closing minutes by Garfield star Benny Babula. Many of the players would serve overseas just a couple years later, and some would not survive the war. Gola tells their story with respect and admiration. 
VERDICT   Extremely well done. Impeccably researched, with writing that is warm and moving. This beautiful book deserves the broadest of audiences.
" — 
Library Journal
"Like the finest works from the genre, including 
Friday Night Lights
 and 
The Junction Boys
, Gola crafts a story that transcends sports, the powerful imagery making clear why that season, and one incredible game, was so important to an industrial mill town along the Passaic River during the Depression." — 
Steve Edelson
, 
Asbury Park Press
"New York Daily News sportswriter Gola (Tiger Woods: A Pictorial Biography) recounts the story of the 1939 high school football national championship between two remarkably different teams. Gola writes how the working-class students of Garfield High School in New Jersey took on the more wealthy and renowned team from Miami, Fla. The narrative tracks each team's progress throughout three seasons, with game summaries and analyses drawn from old tapes and news reports, culminating in the championship game in Miami's newly built Orange Bowl. Gola also touches on life in America between the world wars, especially for the working-class immigrant families that made up and supported the Jersey team (including many Italians and Eastern Europeans), and the prejudiced Southern atmosphere around the segregated Miami Senior High. Throughout, Gola depicts a watershed period in American history as the country began climbing out from the Depression and war loomed. Football fans will relish this history of a bygone era in the sport—complete with 45 photos—and delight in the many anecdotes (the Garfield team's stay at the upscale Alcazar hotel is particularly endearing) and play-by-plays of Miami's Davey Eldredge muscling through Garfield's defense and Benny Babula's game-winning field goal." — 
Publishers Weekly
"In 1939, a team from Garfield, New Jersey, traveled to Miami for the high school football championship. The event drew wide attention. The upstart Garfield Boilermakers came from an immigrant-heavy northern city to face the perennial powerhouse Stingarees. The game remains legendary in Garfield, and veteran sportswriter Hank Gola tells the bigger story in City of Champions, a thoroughly researched and thoroughly engrossing work. In 1939, sports were wildly different, with years lost to the Great Depression and going for a field goal being regarded as a radical decision. Here, game-by-game accounts of Garfield's 1937, 1938, and 1939 seasons come alongside the backstories of key players and coaches. Though the Boilermakers are the stars of the book, Miami's team is covered in nearly the same depth. Gola deploys an impressive mix of interviews, news reports, and archival work to piece his story together. Game recaps retain an immediacy. Numerous photographs add extra details, as do useful appendices featuring rosters, box scores, and lists of player honors. Some of the book's best material has little to do with football: Gola tells other stories about the towns and era that provide important context. He tells the harrowing story of immigrants on their way to Garfield aboard the Athenia, a British liner sunk by a Nazi torpedo the year of the championship. Another chapter explains the level of racial segregation in 1930s Miami, detailing incidents of African American stars from northern teams being unable to join their teammates in high-profile games. Near the end, Gola follows the players into World War II, telling some powerful individual stories—most notably, of a Jewish player's quick thinking saving him from a concentration camp.These details flesh out the story while truly grounding City of Champions in its time and place. This is an excellent piece of sports writing, made even stronger by how it treats its characters." — Jeff Fleischer, Foreward Magazine
"As one Jersey guy, I appreciate what another Jersey guy, Hank Gola, has done in City of Champions. It's a great look at the glory days of high school football in my home state from one of America's top football writers." — 
Bill Parcells
, NFL Hall of Fame coach
"A spell-binding tale of a great American Cinderella stroy and a vivid portrait of how the nation lived, worked--and played--on the eve of WWII." — 
Jim Nantz
, CBS Sports
"An absolute winner. Gola's storytelling is so rich and so detailed, that you'll feel like you grew up in Garfield, New Jersey after reading this." — 
Rich Cimini
, ESPN footbal writer
"I love stories that transport us back in time vividly, and particularly stories that time forgot with heroic twists. [Laura Hillenbrand's] "Unbroken,'' with athlete-turned-World War II POW Louis Zamperini, is a classic in that genre. Hank Gola has unearthed another one. "City of Champions," with the hopes and dreams of a little town in New Jersey riding on a 1939 football game in Florida, is a story so rich and so unforgettable and so inspirational that kids who grow up today in Garfield, N.J., are told the story four generations after it happened. Well, it shouldn't just be told to Garfield kids. It should be told across America. It's that good." — 
Peter King
, book author, Sports Illustrated, NBC Sports
"Beautifully written, painstakingly reported, and lovingly told...mesmerizing. Gola passionately tells the story of a long-ago football game that was so much more than just a sporting event. It's a brilliant look at who we wer once were--and in some cases--who we might want to be again." — 
Jimmy Roberts
, broadcaster, NBC, Golf Channel
Tatra Press, 9781732222700, 465pp.
Publication Date: November 26, 2018
About the Author
Hank Gola has spent over four decades as a journalist, primarily covering professional football and golf for the New York Daily News and New York Post. An award-winning sportswriter, Gola most recently was named the 2018 recipient of the Metropolitan Golf Writers Association's Lincoln Werden Award for golf journalism. A native of Garfield, New Jersey, he now lives in Parsippany, NJ, with his wife, Lillian. He has two children, Henry and Julianne, and three grandchildren, Rose, Ruby and Elliot and a loyal pug, Freddie.
or
Not Currently Available for Direct Purchase