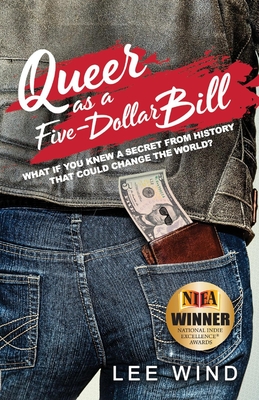 Queer as a Five-Dollar Bill
Paperback

* Individual store prices may vary.
Other Editions of This Title:
Hardcover (10/2/2018)
Description
Wyatt is fifteen, and nobody in his homophobic small town of Lincolnville, Oregon, knows that he's gay. Not even his best friend (and accidental girlfriend) Mackenzie.

Then he discovers a secret from actual history: Abraham Lincoln was in love with another guy! Since everyone loves Lincoln, Wyatt's sure that if the world knew about it, they would treat gay people differently and it would solve everything about his life. So Wyatt outs Lincoln online, triggering a media firestorm and conservative backlash that threaten to destroy everything he cares about.

Now Wyatt has to pretend more than ever that he's straight (because no one will believe a gay kid saying Lincoln was gay). Only then he meets Martin, who is openly gay and who just might be the guy Wyatt's been hoping to find. Will Wyatt stay closeted to change the world, or will he let Abraham Lincoln's gay romance fade back into history and take his own chance at love?

This nineteenth- and twenty-first-century coming-of-age, coming out story was inspired by real historical evidence that Abraham Lincoln was in love—romantic love—with another man. QUEER AS A FIVE-DOLLAR BILL asks LGBTQ teens (and everyone else), What if you knew a secret from history that could change the world?
Praise For Queer as a Five-Dollar Bill…
A Book Life Prize Semi-Finalist, one of Publishers Weekly's Top Five Independently Published Middle Grade and Young Adult Books of 2018

"Wind's engaging, utterly enjoyable tale of teen self-discovery is riveting both for its well-structured, historically based plot and its emotional honesty. . . . Wind's polished prose is filled with laugh-out-loud moments. . . . A resonant and admirably crafted work." —Book Life Prize

"The premise is a real hook . . . with real potential to influence and educate, on top of entertaining. . . . A tapestry of the gay teenage experience—frayed edges repaired with earnest love and care." —Kirkus Reviews​

 

"Bound to spark curiosity . . . A sympathetic novel that will change the way young readers look at history and the lessons it has to teach." —Foreword Reviews

"Compelling… with highly empathetic characters in Wyatt and his friends. Was Abraham Lincoln gay? Readers of this intriguing and readable novel will decide for themselves." —Michael Cart, ALA Booklist

 

"All the more impressive when considering that it is author Lee Wind's debut as a novelist. Entertaining, thought- provoking, Queer as a Five-Dollar Bill is recommended for school and community library YA fiction collections. —Midwest Book Review 

"I LOVE the characters." —Alex Sanchez, author of 8 teen novels, including the groundbreaking gay teen Rainbow Boys trilogy

"This one should get people talking! I hope this book, which shines some much-needed light on a fascinating bit of history, finds the large audience it deserves." —Brent Hartinger, author of 12 novels, including the groundbreaking gay teen novel Geography Club

"Lee Wind has written a courageous novel about facing truth, both in history and in yourself. I applaud this important book." —Ellen Wittlinger, author of 14 novels, including the Lambda Literary Award– and Printz Honor Award–winning Hard Love

 

"This powerful novel combines raw emotion with detailed historical evidence. Readers will be drawn into Wyatt's story as he struggles with being true to himself, and come out the other side questioning who writes the history we learn. Speaking truth to power, indeed. Queer as a Five-Dollar Bill belongs in every library that serves teens." —Yapha Mason, school librarian and two-time Newbery Medal judge
I'm Here. I'm Queer. What The Hell Do I, 9781732228115, 300pp.
Publication Date: October 2, 2018
About the Author
Lee Wind is the founding blogger and publisher of I'm Here. I'm Queer. What The Hell Do I Read?, an award-winning website about books, culture, and empowerment for Lesbian, Gay, Bi, Trans, Questioning and Queer youth, and their Allies. For over 11 years, readers from 100-plus countries have racked up 2.6 million page views—and counting!

QUEER AS A FIVE-DOLLAR BILL is Lee's debut novel, and readers describe it as "a love letter for history geeks" that "perfectly captures teen angst," "had my heart racing," and helped them feel "less alone."

In his "Clark Kent" jobs, Lee is the director of marketing and programming at the Independent Book Publishers Association and the official blogger for the Society of Children's Book Writers and Illustrators.

Lee's "Superhero" job is writing. Fans of QUEER AS A FIVE-DOLLAR BILL say, "I felt a magical bond with the story", "I absolutely loved this book," and that Lee Wind's "can't-put-it-down" writing "gripped me emotionally" and "will pull you in and have you wondering about the truth of history."

Lee lives in Los Angeles with his husband and their teenage daughter. He loves featuring fan art, #queerhistoryiseverywhere snapshots, and photos of GSAs and book clubs reading and discussing #queerasafivedollarbill

Visit him online at:

www.leewind.org
Twitter: https://twitter.com/leewind
Facebook: https://www.facebook.com/leewind
Instagram: https://www.instagram.com/iamleewind/