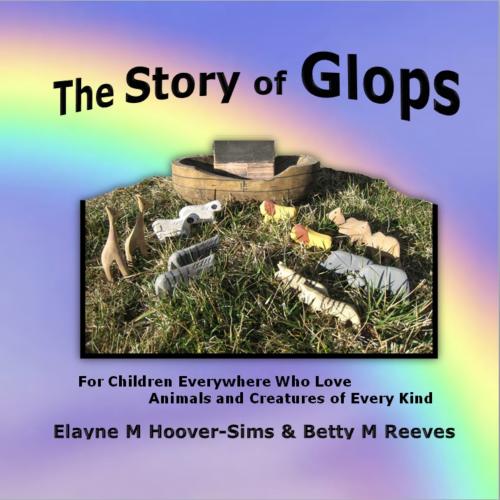 The Story of Glops (Paperback)
For Children Everywhere Who Love Animals and Creatures of Every Kind
Betty's Music & Publishing, 9781732234703, 54pp.
Publication Date: April 30, 2018
* Individual store prices may vary.
Description
Glops were practically invisible and they slowly oozed to move, but they managed to witness Biblical events of long ago. Glops had to adapt to their surroundings, overcome their prejudices and fears, make friends, and solve problems. Their biggest problem was finding a way to reach Noah's Ark before the Great Flood. Read The Story of Glops series to learn what the glops experienced.

About the Author
Betty M Reeves has written two music books, Melody Street: Story and Illustrations and Guitars & Folk Songs: An Anthology. With daughter Elayne M Hoover-Sims, Betty co-authored The Story of Glops, a Christian book for children/youth. Since then, Betty has continued telling about Glops in a series. She is an arranger/composer, and self-publisher. She taught music for 23 years and volunteers in two choirs and in the music ministry of her church. Her Master of Arts in music with Kodaly certification is from WTA&M University, Canyon, Texas; her Bachelor of Music Education is from Texas Tech University, Lubbock, Texas. Betty and her husband Glenn live in Borger and Amarillo, Texas. They are blessed with five grown children, nine grandchildren, and many great-grandchildren.
Praise For The Story of Glops: For Children Everywhere Who Love Animals and Creatures of Every Kind…
A delightfully humorous and inspiring version of Noah's Ark, this story will capture a child's imagination and intrigue in an amusing way. I really enjoyed this fun, beautifully written story. What a wonderful way to show that God has a purpose for each and every creature. I loved the choice of photos; they were great. Thanks for your creativity and for introducing me to glops! Keep up the good work. Betty Douglas, Retired Teacher; Associate Member, Society of Children's Book Writers and Illustrators

I could never have put together something so charming! It's a beautiful story with lovely photographs. I was impressed and delighted by the creativity and the unexpected turn of the story. Jeannie F Linzie, Retired Library Associate, New Mexico Highlands University, Las Vegas, NM

What a fun way to engage the imaginations of children of all ages! My children loved trying to spot the GLOPS in the photos, and we all found ourselves wondering about the lives of them even after finishing the book! What a great family read! Jami Deaton, Mother of Two, Fritch, TX

My grandsons and I read The Story of Glops together. We thought it was a delightful and fun book which incorporates the Creation story and the Noah and the Ark story. As a retired reading teacher, I think this book is not only creative, but it models problem solving, working together, and looking at the worth of others when we would rather not. Children of all ages will enjoy The Story of Glops! Rossetta Hanna, Retired Teacher, Texas English Language Arts and Social Studies

This is a super cute story! I loved the descriptive words (glop drop, limp lump, slurping). I think children will be captivated by searching for invisible glops in the wonderful pictures and in the world around them. This is a great way to inspire young minds to think about animals, the ark, and God's creation. Marion Kindy, Retired Teacher, Plemons-Stinnett-Phillips CISD

That was fun! Very imaginative and well told. It will remind children that God cares even for the creatures we don't see. Great job! Ricky Garzon, College & Worship Pastor, First Baptist Church, Borger, TX

This is a delightful and imaginative story. It speaks to children and adults in a way that only a story told by a child for other children can. It is clever and, ultimately, uplifting in its tale of survival against all of the odds. Don Aubri Sims, Retired Tactical and Strategic Intelligence Officer, U.S. Army; Warfare Advisor, Kingdom of Ansteorra, SCA

or
Not Currently Available for Direct Purchase