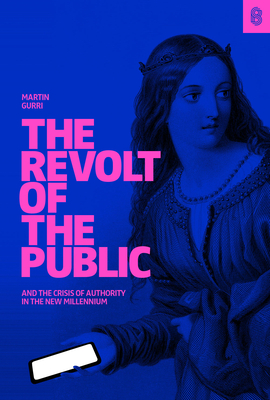 The Revolt of the Public and the Crisis of Authority in the New Millenium
Hardcover

* Individual store prices may vary.
Description
How insurgencies--enabled by digital devices and a vast information sphere--have mobilized millions of ordinary people around the world. In the words of economist and scholar Arnold Kling, Martin Gurri saw it coming. Technology has categorically reversed the information balance of power between the public and the elites who manage the great hierarchical institutions of the industrial age: government, political parties, the media. The Revolt of the Public tells the story of how insurgencies, enabled by digital devices and a vast information sphere, have mobilized millions of ordinary people around the world. Originally published in 2014, The Revolt of the Public is now available in an updated edition, which includes an extensive analysis of Donald Trump's improbable rise to the presidency and the electoral triumphs of Brexit. The book concludes with a speculative look forward, pondering whether the current elite class can bring about a reformation of the democratic process and whether new organizing principles, adapted to a digital world, can arise out of the present political turbulence.
Praise For The Revolt of the Public and the Crisis of Authority in the New Millenium…

"All over the world, elite institutions from governments to media to academia are losing their authority and monopoly control of information to dynamic amateurs and the broader public. This book, until now only in samizdat (and Kindle) form, has been my #1 handout for the last several years to anyone seeking to understand this unfolding shift in power from hierarchies to networks in the age of the Internet." --Marc Andreessen, co-founder, Netscape and Andreessen Horowitz

"We are in an open war between publics with passionate and untutored interests and elites who believe they have the right to guide those publics. Gurri asks the essential question: can liberal representative democracy survive the rise of the publics?" --Roger Berkowitz, Founder and Academic Director of the Hannah Arendt Center, Professor of Politics and Human Rights at Bard College
Stripe Press, 9781732265141, 448pp.
Publication Date: December 4, 2018
About the Author
Martin Gurri is a geopolitical analyst and student of new media and information effects. He spent many years working in the corner of CIA dedicated to the analysis of open media. After leaving government, Gurri focused his research on the motive forces powering the transformation and has churned out countless articles, studies, and blog posts on the topic including co-authoring Our Visual Persuasion Gap (Parameters, Spring 2010). His blog, The Fifth Wave, pursues the themes first elaborated in The Revolt of the Public.
or
Not Currently Available for Direct Purchase