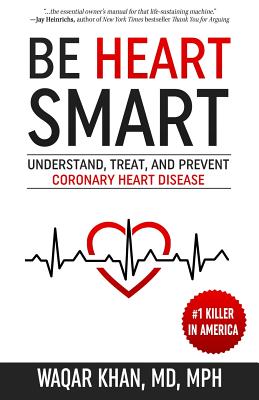 Be Heart Smart (Paperback)
Understand, Treat, and Prevent Coronary Heart Disease
Heart Health Books, 9781732268609, 206pp.
Publication Date: September 15, 2018
* Individual store prices may vary.
Description
If you have coronary heart disease, this book could save your life. Coronary heart disease (CHD) takes the lives of 2,000 Americans every day. But you don't have to be one of them. If you've been diagnosed with CHD or suffered a heart attack, you can still live a long, heart-healthy life. Be Heart Smart shows you how.
In this definitive guide to CHD, cardiologist Waqar Khan, MD, MPH, answers your questions and gives you easy-to-follow advice for preventing heart attacks and keeping your heart in tip-top shape. It's like having your own personal cardiologist on call.
Using real-life patient stories and the latest evidence-based science, Dr. Khan:
Explains what CHD is and how it affects the body
Explores the root causes and risk factors for CHD
Describes the different types of heart attacks and their warning signs
Walks you through the tests used to diagnose coronary problems
Discusses the medications prescribed to combat CHD, including their side effects
Reveals the latest surgical advancements in surgical and non-surgical interventions to open clogged arteries and prevent heart attacks
Offers simple approaches to eating better, exercising, quitting smoking, and losing weight
Dr. Khan even includes a glossary of commonly used medical terms. Plus, he shares online resources that can help you with everything from assessing your risk level and setting health goals to cooking heart-supportive meals.
Written in easy-to-understand language, Be Heart Smart will help you (and your loved ones) gain a better understanding of CHD and give you the knowledge you need to take charge of your heart health.